Ghana Scams
Dating websites are very popular however Ghana scams are increasing due to the anonymity of the site allowing criminals in Ghana to take advantage of unsuspecting singles by forging fraudulent relationships and attempting to get money out of them.

The majority of people who start an online relationship with a Ghanaian originally think they are corresponding with someone in the United States. You will meet Ghanaians on all of the major dating websites and many of the more specialized chat rooms.

Only after a relationship is formed does the correspondent advise that they are from Ghana.
Relationships can last anywhere from 1-3 months before the Ghanaian correspondents will ask you for money.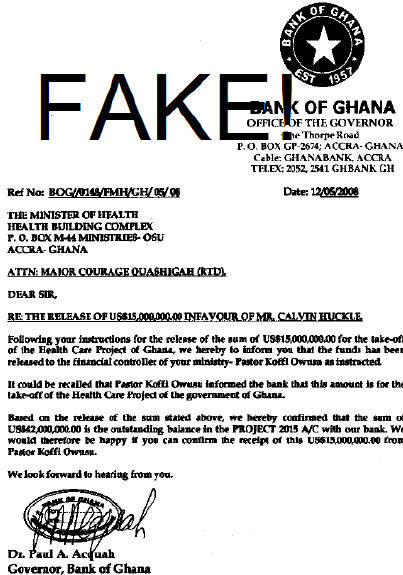 There are several generic stories that are used: death or illness in the family, need to escape an abusive situation, visa and travel expenses, or arrest by customs officials for smuggling gold.
Regardless of the reason for the request, people are usually so involved in the relationship that they send money on the first request. At this point, relationships have usually advanced from email to phone calls. Often, you will have spoken with the Ghanaian's "relatives" and/or visa broker and feel like a part of the family.
Some people start to question the relationship after they receive two or three requests for money and no visit.
The majority of Ghanaian correspondents send pictures of themselves along with scanned copies of altered Ghanaian passports and U.S. visas to assure people of their existence and their intent to visit. Pictures are generally headshots taken from websites (the most notable coming from a Brazilian transsexual website).
The next and most lucrative step in Ghana scams come when the Ghanaian correspondent supposedly leaves Ghana but is picked up by Ghanaian, British or Dutch immigration authorities. Usually, the victim receives an email or phone call from their friend in prison asking for more money to bribe the officials to facilitate their release. There have been several cases where the "customs officer" has called the victim directly.
Since Ghana is known as the Gold Coast most Ghanaian correspondents are able to convince their victim friend that they carry their inheritance in the form of gold bars that they will smuggle out of Ghana to start their new life with the victim.
Many believe this and have parted with as much as $10,000 in the hope of receiving millions of dollars worth of gold when their "friend" arrives to be with them.
As long as Internet chat rooms and dating services are in demand in the U.S. this scam will flourish.


Signs of Ghana Scams
You met a friend/fiancé online
You've never met face to face
They stated love at warp speed
Your friend/fiancé is plagued with medical problems requiring loans from you
You are promised repayment upon the inheritance of alluvial gold or gems
You've sent large sums for visas or plane tickets but the person cannot seem to make it out of Ghana
When your friend does try to leave the country, h/she is detained by immigration officials demanding payment or bribes
Your friend consistently uses lower case "i's" and/or grammar not in-keeping with their supposed life station or education level
A Letter from a Ghana Scam
Hello Sweetness, How are you doing today, I miss you and i love you so much baby. i really need you in my life and i never want to lose you baby, something really terrible happen today when i came out from the bank to cash out 25000 dollars, when i just came out from the bank and sat in the car with my driver , two gun men approached us and threatening to kill us if we do don't hand over the money to them, I had to give it to them because i cant help it losing my life , leaving my son and you, I love you so much,
The money was supposed to be used to pay the workers which this incident just happened,i really have to leave this country, i was been warned to be careful with money around town in this country, and this just happened, I had to go back and cash out the rest of the money i have in there and it has affected the money i have here to live, i was able to raise 20000 dollars from what i have here, i don't know where to get the rest and i don't want my partners to know about this, i don't want any conflict and mistrust to come between us, i feel very embarrassed asking you for help ,i really don't want to ask you but i really wish you can help me, and i promise to God i will repay you back and the amount of interest you want on it, i just want to get out of this, i don't want anything wrong to happen,
 This has ruined my day, i am not asking you to do this to me because of our love, its because i really need help and you are the only person i can rely on, I hope this doesn't affect the love we have for each other, I love you so much and i feel really bad to do this, but i have to pay them ,i don't want to have problem with them , they are capable people we devoted their time and energy to earn a living for their family, i really cant pay and leave others, i reported this case to the police officers, they asked question and decided to carry out an investigation, i have to come back home and pray they get any news, I don't know how to say this but please i swear to God i am going to pay back this money, i promise you baby.. i really hope you understand the condition i am inside right now, they didn't allow me to carry enough money into this country because of money laundering, I love you baby, i really hope to hear from you soon sweetness, i really cant stop writing because i really need this and i swear to God i will pay you back sweetness,
I am in a sad mood now , God help me, I love you so much I sure will pay you back,i promise you
Advice for Ghana Scams
Long distance love + request for money = scam!
Don't send money to people you haven't actually met
If you do lose money, your chances of getting it back are essentially nil
You can report the scam on www.ic3.gov and might also consider alerting the dating website on which the scammer was encountered.
Do You Have A Great Story, Tip, or Experience With This Topic?
Do you have any knowledge or experience of the Ghana scam to help others.

Share your story, tip or review with the world!

What Other Visitors Have Said
Click below to see contributions from other visitors to this page...

Ghana Scams