Scholarship Scams
When trying to avoid scholarship scams, it is important to remember one thing - scholarships do not ask students for money, they give students money!
Each year many thousands of students and parents are defrauded of more than $100 million by people exploiting who need to finance a college education.

They often imitate government agencies, scholarship matching services, education lenders and foundations that give grants.

To do this they use such names as 'Federal', 'National' or 'Foundation' in order to sound credible and official.

Scholarship scams generally claim to provide you with information, guarantee placement or find sources of financial aid.
Common Scholarship Scams
Guarantees

Be cautious about organizations that claim to 'guarantee' you will receive a certain amount of financial aid. They have no control over the decisions made by scholarship sponsors so they cannot guarantee you will receive money. Any that claim influence with sponsors are a scam.

Our Database is Unique - You Can't Get This Information Anywhere Else

You can get free advice from a variety of sources, starting with your high school counselor or a college financial aid administrator. Scholarship information is widely available in books, financial aid offices, the library, and the Internet. You just need to search for it.

Seminar Scam

You receive a letter inviting you to a free financial aid seminar which turns out to be a thinly disguised high-pressure sales pitch for insurance, annuity, investment products, scholarship matching services or overpriced student loans.

Application Fees

Some scholarship scams charge an 'application fee' which may be as low as $2 or as high as $5,000. Some justify the fees saying it weeds out the serious applicants, or is for administration of their database.

You 'Win' a Scholarship You Never Entered

Some students are contacted and advised that they have won a scholarship, and are then asked to pay a fee to 'release' it or for taxes or redemption, or are asked for their credit card details for verification.

Endorsement Claims

Some scholarship scams claim to have Better Business Bureau sponsorship, or a specific college or university. Always check it out with the supposed sponsor first.

We Do All The Work

Students are required to complete the application themselves. Only parents and students can provide all the personal and financial information needed to complete the forms, gather the letters of recommendation or write the essay.

Everybody is Eligible

The scholarship sponsors always have criteria that students need to meet. It may be academic, sporting, cultural etc, however they don't just award them to anyone. This ploy is used to get everyone to apply!

Scholarship Hype

If the advertisements have "free money', 'first come first served', 'guaranteed', 'everyone is eligible' or 'claim your fair share' you should look somewhere else.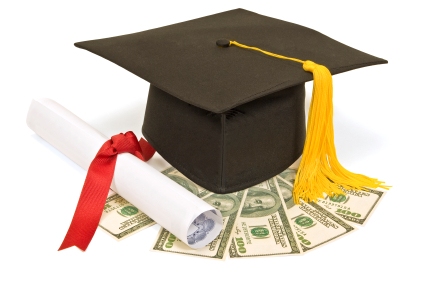 Scholarship Matching Services

Scholarship matching services do not award scholarships and do not apply for scholarships on your behalf.

All they do is provide a list of the names and addresses of scholarships that superficially match your profile. It is then up to the student to contact the scholarship sponsor for current information and application materials.

The scholarship matching service does not complete the applications for the student, nor do they select the winning students.

Some promise to help you maximize your eligibility for financial aid at a cost of several hundred to several thousand dollars and may take your money and never look for anything on your behalf, while others provide a list of scholarships for which your child is not eligible.

The largest and highest quality scholarship databases are all available free by searching on the Internet.
Warning Signs of a Scholarship Scam
According to the Federal Trade Commission's Scholarship Scams if you or your child hears these lines from a scholarship service, you may be getting scammed:
"The scholarship is guaranteed or your money back"
"You can't get this information anywhere else"
"I just need your credit card or bank account number to hold this scholarship"
"We'll do all the work"
"The scholarship will cost some money"
"You've been selected by a 'national foundation' to receive a scholarship"
"You're a finalist" in a contest you never entered
Reporting a Scholarship Scam
If you suspect a scam, take a copy of all literature and correspondence to your child's school guidance office or to a financial aid administrator at a local college for advice.
You can also contact the Better Business Bureau, your State Bureau of Consumer Protection, or your State Attorney General's Office.
The following organizations can help you determine whether an offer is legitimate. They will tell you whether they have received any complaints about the company, or whether it's currently under investigation. They can also provide you with additional information or assistance.
National Fraud Information Center [NFIC]
In addition to providing helpful information, the NFIC will pass your complaints along to the appropriate authorities, such as the Federal Trade Commission [FTC] and your state's Attorney General's Office.
National Fraud Information Center
PO Box 65868
Washington, DC 20035
Federal Trade Commission [FTC]
The FTC Consumer Response Center also has an online Complaint Form and can be reached at 1-202-FTC-HELP [1-202-382-4357] or 1-877-FTC-HELP [1-877-382-4357].
Resources to Avoid Scholarship Scams
Department of Education
The Department of Education also monitors scholarship fraud and offers several consumer informational products.
The "Looking for Student Aid" brochure lists typical scholarship scams and tells students where to find free information about financial aid.
A poster titled "Don't Get Stung" reminds students that there is no fee associated with learning about or submitting the Free Application for Federal Student Aid. The poster recommends that the student contact a high school counselor, college financial aid administrator, or ED for free information on financial aid.
"The Student Guide" and "Funding Your Education" are booklets primarily covering federal student aid, but both mention scams and how to avoid them.
The "High School Counselor's Handbook" covers the basics of the federal student aid programs and includes both a scam warning for counselors and a one-page scam awareness sheet that can be photocopied and distributed to students.
These materials are available at www.studentaid.ed.gov or by calling 1-800-4-FED-AID [1-800-433-3243; TTY: 1-200-730-8913].
Scholarship Scams