Car Buying Scams
Car buying scams can be found whether you buy your car through the internet, the classified ads or a dealer.
Most online car transactions go ahead without a problem. However it pays to be suspicious and watch for signs of a scam.

The best way to avoid most of the scams is to make sure you don't transfer ownership of your vehicle until you have the cash in your hand.
If you receive cash, that is fine, but if your receive a cashier's check, it means waiting for the funds to clear which may take a few weeks.
Avoid taking personal checks or allowing the buyer to pay the vehicle off over time.

Types of Car Buying Scams
The two main types of car buying scams we will cover are:

  Car dealer scams

  Used car scams


General Advice to Avoid Car Buying Scams
Many scams begin by offering unrealistically good deals such as offering a brand new Mercedes for $15,000? These offers are designed to get your attention and then get your money
Talk to the buyer or seller by phone and find out where the car is located. Ask if you can inspect the car, even if you don't plan to do so. Also ask if the title is clear and in their possession
Check the authenticity of the escrow company you plan to use by checking it is  licensed. Visit their website by typing it into your computer address bar, and not by using a link in an email. Call them and speak to a representative. Don't use an escrow company specified by the buyer or seller as it could be fraudulent
Choose an escrow company yourself and check the online escrow company's web site for poor content, spelling or grammar errors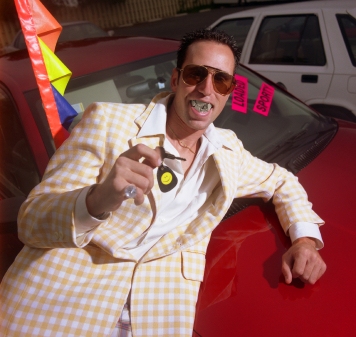 Keep clear of sites that require you to set up accounts with online payment services. Legitimate escrow companies don't use person-to-person money transfers like Western Union or MoneyGram or direct you to send your payment to an individual rather than a corporate entity
Fraudulent escrow sites often display logos from the Better Business Bureau, VeriSign Secure, TRUSTe, and even the Internet Fraud Complaint Center. They work on the assumption that you won't check them out. Check to make sure the escrow company is actually endorsed by these organizations
Avoid escrow company sites ending with domain names such as .org, .biz, .cc, .info or .US
Don't give out your financial or personal information [Social Security number, credit card number or bank account information] until you are sure the online escrow company you are using is legitimate
Never accept payment which does not exactly equal your selling price
When you are selling your car to someone you don't know, choose someone you trust [like your attorney or bank] and get them to hold the title in escrow until you are certain the payment transaction cannot be reversed
Under Federal Banking Regulations, a bank must make funds you deposit available to you within a couple of days. If you deposit a cashiers check, the bank must let you withdraw cash by the next day, even though the funds haven't cleared. This may take a couple of weeks, or in some cases up to a month. If the check proves to be fake as sometimes happens in car buying scams, the amount will be deducted from your account


Car Buying Scams