Craigslist Scams
Craigslist is known worldwide for their classifieds for just about anything - from toys to furniture, however just as common are the Craigslist scams.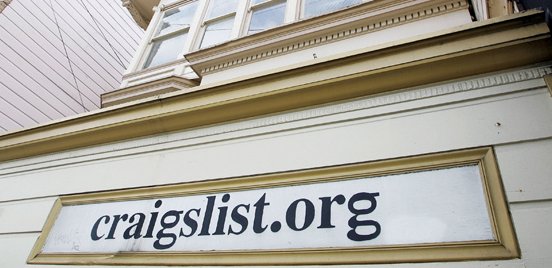 With a few simple clicks and an email address, anyone can post wanted and 'for sale' items. However, everyone needs to be aware and distinguish valid and scam posts in Craigslist.

There are many ways that scammers operate on Craigslist. The most common of the Craigslist scams is the fake check.

It usually starts with someone showing sincere interest in a high price item you have listed. Sometimes they may haggle with the price to appear to be a legitimate buyer, but often they will simply accept your asking price. But, they will have some excuse as to why they cannot just come purchase the item directly from you.
Some may say they are on vacation or away on business, while others may just say they live in another area or another state and would like to send you a check and have the item shipped to them. Or, they could claim to have someone else come pick the item up later.

Next, they either send you a fake check for the item that will eventually be rejected by your bank after they have taken the item, or they will request that you give them your name, address, and phone number so they can fill out a cashier's check to you.

In this first case they are trying to get the item for free. The fake check will eventually be dishonored by your bank, leaving you with an overdrawn account and no item. In the second case, they are not interested in your item at all.

They want your personal information to use for illegal purposes. Escrow companies are now becoming a popular Craigslist scam. Many people have been using escrow services as a way of ensuring transactions dealing with larger amounts of money are safe for both the buyer and the seller.

The problem is many of these little known escrow companies are owned by the scammer on one end of the transaction.

In this case, a scammer will set up the escrow account and list an expensive item on Craigslist for a very low, tempting price. When they rope in unsuspecting buyers, they instruct them to use the escrow account to ensure everything goes smooth.

The victims go to the website for the scammer's escrow account [not knowing it is owned by the seller] and put in their personal information, including bank account or credit card number.

The scammer, or "seller," then has their personal information and access to their credit card or bank account and simply disappears to use it.
Craigslist Scams Advice
Craigslist provides the following advice on avoiding scams to anyone using their service:

Never wire funds via Western Union, Moneygram or any other wire service - anyone who asks you to do so is a scammer
Deal Locally with Folks you can meet in person  - follow this one rule and avoid 99% of scam attempts on Craigslist
Fake cashier checks and money orders are common, and banks will cash them and hold you responsible when the fake is discovered weeks later
Craigslist is not involved in any transaction, and does not handle payments, guarantee transactions, provide escrow services, or offer "buyer protection" or "seller certification"
Never give out financial information [bank account number, social security number, eBay/PayPal info, etc.]
Avoid any deals involving shipping or escrow services and know that only a scammer will "guarantee" your transaction
Do not rent housing without seeing the interior, or purchase expensive items without seeing them - in all likelihood that housing unit is not actually for rent and that cheap item does not exist
Do not submit to credit checks or background checks FOR A JOB OR FOR HOUSING UNTIL YOU HAVE MET THE INTERVIEWER OR LANDLORD/AGENT IN PERSON
Common Signs You Are Dealing With a Craigslist Scam

The three most common signs of Craigslist scams are:
The buyer or seller doesn't live near you
The buyer or seller wants to pay by cashier's check, US Postal Service money order, Western Union, or escrow service (BidPay, Squaretrade, etc.).
The buyer or seller won't agree to meet you in person
Common Craigslist Scams

The main Craigslist Scams are:
Craigslist job scams
Craigslist pet scams
Craigslist scams music teachers
Craigslist Paypal scam
Craigslist driver scam
Craigslist housing scams         

Report Craigslist scams - Who should I notify about Craigslist Scams or fraud attempts?
U.S. Federal
FTC toll free hotline: 877-FTC-HELP (877-382-4357)
Canada
If you are defrauded by someone you met in person, contact your local police department.
If you happen to see something on Craigslist that looks scammy, you should send an email to "abuse@craigslist.org" and give them as much detail as you can about the listing.

Make sure you include the URL (or 8 digit post ID number) in your email. If you're selling something and you think a scammer has expressed interest, forward it to "abuse@craigslist.org".

Craigslist Scams