Credit Scams
Credit scams have the potential to damage your credit report as well as incur further debt for you.
Your credit report is an important file that the credit bureaus store about you as this credit report lets other lenders know whether you are trustworthy or not.

Credit-repair companies run advertisements in newspapers, radio, TV, and the Internet, offering you assistance, for a price, to clean up your credit history.

A lot of the claims that these companies make are false - such as being able to remove judgments, liens and other unfavorable information from credit reports.
They cannot remove legally accurate negative information from a credit report. The legitimate help they claim to be able to provide can all be done by you, for little or no cost.
Scammers prey on people with poor credit reports because they are usually desperate to make their credit report better. The scams however don't work.
One of their tactics is to challenge any debts on your report which will cause it to be re-investigated. During this time it may be removed temporarily and therefore show a 'clean' report, however as soon as it has been verified, it is placed back on your file.
While the credit file has these entries temporarily removed during investigation, the scammers show you a 'clean' report and demand their money, before the entries are placed back on your report.
Red Flags of Credit Scams
The following red flags of credit scams are offered by the Federal Trade Commission:
You are asked to pay for credit repair services before any services are provided. Under the Credit Repair Organizations Act, companies cannot require you to pay until they have completed the promised services
You are advised not to contact a credit bureau directly
They suggest you apply for new taxpayer identification or employer identification numbers from the Internal Revenue Service so you can create a new identity
You are not advised of your legal rights or what you can do yourself to save money
You are advised to dispute all the information on your credit file
If you follow the illegal advice of one of these companies and you commit fraud, you may be subject to prosecution.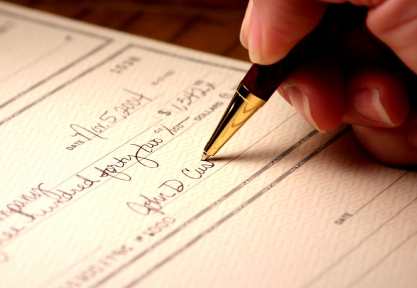 The Facts Regarding Credit Scams
No one can erase negative information on your file if it's accurate. Only incorrect information can be removed. Accurate information stays on your record for 7 years from the time it's reported [10 years for bankruptcy]
Credit repair services can't ask for payment until they've provided their services. Federal law requires credit repair services to give you a explanation of your legal rights, a detailed written contract, and three days to cancel [this applies to for-profit services, not to nonprofit organizations, banks and credit unions, or the creditors themselves]
Be cautious about emails for credit services. Most unsolicited emails are fraudulent and are credit scams
You can correct mistakes on your credit report yourself. If you were recently denied credit because of information in your credit report, you have the right to request a free copy. It doesn't cost anything to question or dispute items in your report. Follow the instructions provided by the credit bureau. The major credit bureaus are: Equifax, 800- 685-1111, www.equifax.com; Experian, 800-682-7654, www.experian.com; and TransUnion, 800-916-8800, www.transunion.com. Contact all three, as the information each has may vary
File segregation. This is an illegal scheme used by credit repair companies to encourage people with unfavorable credit histories to get new taxpayer identification or employer identification numbers from the Internal Revenue Service under false pretenses and use them to hide their true credit identity from creditors. File segregation is illegal, and if you use it, you are committing a felony
You can add an explanation to your report. If there is a good reason why you weren't able to pay bills on time such as job loss, sudden illness, or you refused to pay for something because of a legitimate dispute, give the credit bureau a short statement to include in your file
Steps to Repair Your Credit Rating and Avoiding Credit Scams
There are steps you can take to improve your credit rating [and avoid credit scams] however its not always easy and won't happen quickly [any claims of achieving it quickly are scams].
Start is by getting the booklet "No Credit?" from the Office of the Data Protection Commissioner
Order a copy of your credit file. The major credit bureaus are: Equifax, 800- 685-1111, www.equifax.com; Experian, 800-682-7654, www.experian.com; and TransUnion, 800-916-8800, www.transunion.com. Challenge any entries you think are wrong. Amendments can be made to a file, removing incorrect information, or a note added to your file stating why you believe it's incorrect
Identify your debts and take steps to pay them. Many lenders will be happy to work out payment plans, and there are legitimate credit counseling agencies
Consider bankruptcy only as a final resort, and then only after legal consultation   

What to do for Credit Scams
If you have credit problems, get counseling. Your local Consumer Credit Counseling Service [CCCS] can provide advice about how to build a good credit record. The CCCS may also be able to make payment plans with your creditors if you've fallen behind. These services are offered for free or at a very low cost. To find the nearest CCCS office, call toll-free, 800-388-2227, or go to www.nfcc.org.
Contact your local consumer protection agency, state attorney general, or Better Business Bureau. You can file a complaint with the Federal Trade Commission by phoning the Consumer Response Center: Toll-free, 877-FTC-HELP [382-4357]; or writing to: Consumer Response Center, Federal Trade Commission, 600 Pennsylvania Ave., N.W., Washington, DC 20580; or you can use the FTC email complaint form to complain about credit scams.
Remember
No one can erase negative credit information if it is accurate and current, and anything that is inaccurate can be corrected at little or no cost.
Federal law allows credit bureaus, which compile your credit history information, to report all truthful information, including negative information for seven years [bankruptcies can be reported for ten years], and the credit repair companies cannot, and do not get the information removed.
Everything a credit repair business can do for you legally, you can do for yourself at little or no cost. You are entitled to a free copy of your credit report if you've been denied credit, insurance or employment within the last sixty days. If your application for credit, insurance, or employment is denied because of information supplied by a credit bureau, the company you applied to must provide you with that credit bureau's name, address, and telephone number.
You can dispute mistakes or outdated items for free. Ask the credit reporting agency for a dispute form or submit your dispute in writing, along with any supporting documentation. Do not send them original documents.
Companies' promises to 'fix' your bad credit rating or to erase your bad credit usually are nothing more than ways to take your money.


Credit Scams