Travel Scams
Holidays are supposed to be relaxing, happy, carefree times, however, travel scams are never far away!
A lot of people look for holiday bargains or ways to save money on their holiday, and it is this desire that scammers prey on.
In the travel industry pre-payment is usually required, and this acts as a magnet to scammers. With the internet, scammers can set up a professional looking website and online store in 10 minutes and less than $200.
That is all it takes for them to commence illegal or unethical business.
And it is just as easy for them to pull their tent down, disappear, and re-set it up again with a different name.
The travel scams can start when you are doing your initial booking, be at your travel destination, or anytime you are traveling.
How Do Travel Scams Work?
Listed below are some of the more common travel scams:
Become a Travel Agent
Have you seen an ad like:
'Become a travel agent! Save 50%-75% on flights and hotels using special travel-agent-only rates. Getting a travel-agent card takes only 15 minutes!'
It is an internet scam called 'card milling'. It is appealing to traveler's greed by offering unrealistic discount rates on cruises, flights and hotels by getting a travel agent ID card.
If presented, the card is usually treated as a joke - and is such a widespread problem, Royal Caribbean Cruises has reportedly announced a crackdown and will not only refuse a discount, it will refuse to sell the card holder a full fare!
If you want to sell travel and be recognized by a supplier, you need to be affiliated with either a travel agency or be registered as an independent seller of travel with either the Cruise Lines International Association or the Airlines Reporting Corporation.
Cruise Travel Scams
These travel scams can start by you providing your details at fairs or trade shows where there is a booth inviting you to register for a vacation. You may think you are entering a draw for a vacation, but it is all about generating leads for telemarketing.
You get rung at a later date and give you the impression you are part of a select group to receive a special vacation package. The caller may advise its worth $2,000 but you can get it today for only $398.
You are told to immediately secure your vacation with a credit card.
If you request time to think it over you are told your special activation number can only be activated once or that special price expires at midnight tonight or similar sales pressure line.
If you provide your credit card details you will be told there are extra charges for 'port service reservation processing fees' and that the package is non-refundable.
You will receive a package in the mail which includes a video, some information and advertisements and a 'reservation request voucher' which gives you an option to purchase a vacation. So you haven't won anything and your initial payment of $398 plus extra processing fees hasn't paid for your vacation!
The additional fees you are asked to pay will actually cover the cost of your vacation.
If you try to claim a refund they will tell you they have a no-refund policy. The people who get their money back are the ones who contact a private attorney, the Better Business Bureau or a law enforcement agency.
For those people who pay the extra fees for their fantasy cruise vacation, they will probably end up with a 6 hour ferry ride to the Bahamas with shabby hotel accommodation, unless they want to pay more undisclosed upgrade fees.
The Front Desk Reception Scam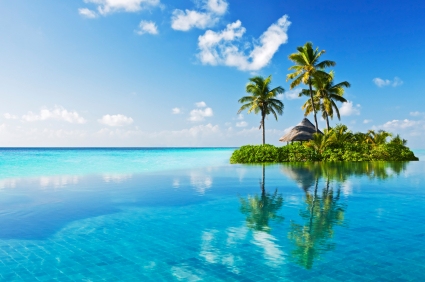 You are in your hotel room and have drifted off to sleep when at 2am the phone rings. You answer to find out its the front desk receptionist ringing. They apologise for ringing you at this time, however at their shift changeover, some forms were not completed correctly.
They ask if you can bring your credit card down to the front desk so they can sort it out. You complain it is 2am, and so they ask if you can read out your credit card details. To save getting dressed and going down to the front desk, and the fact you are still half asleep, you read out the credit card details.
You are too tired to question why they ask for the expiry date as well!
Then there is another apology to say it is all sorted out now. What you don't realize is that you have just been scammed by someone ringing from outside the hotel.
A variation is to say they have your credit card details and 'please can you verify the last four digits'. When you provide these, they query whether it is the correct card details they have for your room and ask you to read all the card numbers out.
Don't ever provide your credit card details over the phone in a hotel. Tell them you will go to the front desk in the morning and sort it out!
Timeshares
Please see our timeshare scams page to learn more about this type of scam.

The Unlicensed Taxi
You are tired from a flight and just want to get to your hotel. The queue at the taxi stand suggests you will be waiting a very long time. You are too exhausted to be thinking of travel scams.
However in most parts of the world, there always seems someone willing to take you for a ride.
In your moment of desperation, you accept an offer of a ride from an unofficial taxi. Your best outcome is that you will be hugely overcharged by 5-10 times the normal fare and taken the long way to your destination. Some travelers report also having their baggage stolen.
However, you could also be taken to a deserted area and robbed, assaulted or killed.
Also don't share rides in taxis with people you don't know. There have been reported instances of the unfamiliar extra passengers being gang members or affiliates of the driver who then rob you - or worse.
Don't use an unofficial, unmetered taxi, and don't share the taxi with anyone else. Look for a taxi cab with the cab number and company name on the outside and the driver's registration card inside with a list of charges. Take details of the taxi driver's information in case you need to complain later.
Deceptive Pricing Travel scams
You have probably seen the airfares that seem too good to be true. When you enquire further you find they are one-way fares only, based on a return fare! Then the taxes usually have to be added etc so a deal that looked great now just looks very ordinary and is not a bargain at all.
Split pricing is another deceptive practice that offers below-market pricing and then items are added that should have been included in the original pricing. Adding upgrades is another way to bring the final price up beyond what the customer would have originally paid. Check that your hotel is not 10 miles from the beach and is a room with a view of the kitchen trash cans.
You may get a low cost airfare but find the hotel room that should cost $50 costs $350 with that airfare.
Another strategy is offer the cheap airfares and accommodation, but when you come to book, the dates you want are taken and you will need to pay full price.
So you are promised a bargain-priced vacation, but with all the extras, fees or upgrades, you end up paying two or three times the original cost or what you thought it would cost and then realise they are travel scams.
Then you are advised there is a no refund policy.
The Free Trip to Florida
With this travel scam, the phone rings and an automated machine tells you to press number 9 to claim your prize, which is a trip to Orlando or the Bahamas.
A salesperson now answers and advises you that you have won a trip where most of the cost is covered. The trip normally costs $2000 but all you have to pay is $500.
You are asked for your credit card details for verification purposes, and the full cost of the trip is charged to your card without your knowledge.
When you try to get a refund, the calls are not answered or not returned, packages don't arrive or the sales staff get abusive.
Your credit card company doesn't have to refund you because you read out your credit card details.
Remember if you are ever told you have won a prize in a competition you never entered, its a scam!
The Hotel representative
When you get off your plane or train you will find people offering rooms at hotels. They will show you photos of the hotel rooms and offer very cheap rates and offer to take you to the hotel.
If you accept, you run the same risks as the unlicensed taxi driver mentioned in the travel scams above. If you get to the hotel, you will be advised by the desk clerk that the special rate you were quoted have all been allocated for the night, but they have other rooms available at normal rates which is far in excess of what you were quoted.
Because you are tired and not alert to travel scams you are likely to accept, and your helpful hotel representative, has just made a healthy commission.
You are better to make your own arrangements or deal with a recognized tourism office to avoid these travel scams.
The Airport Metal Detector Push
You are waiting in the airport metal detector queue and finally its your turn to put your belongings on the conveyor belt. Just as you do this, a man pushes himself in front of you in a hurry.
As he tries to go through the metal detector it goes off and he has to walk backwards while emptying pockets of coins and keys etc. While you are held up behind him, the man in the queue in front of you [aka the accomplice] removes your bags off the conveyor belt and disappears into the crowd.
By the time you get through, your bags have disappeared. Don't get parted from your luggage. If there is two of you, one person goes through first and then all your bags, and then the second person.
The Phony Police Officer
While you are on vacation, a stranger stops you on a street and asks you to change some money. Most people are suspicious and refuse. Moments after this, an 'undercover' police officer arrests the first person and then approaches you and asks to see your passport and wallet.
If you hand them over, it is likely you won't see them again.
If the person looks genuinely like a police officer, agree to go to the nearest police station with them.
The Hungry ATM Machine
The scams may involve a card reader attached to the outside of the slot you insert your card into, or a clear plastic sleeve inserted into the slot itself that can be used later to withdraw your 'jammed card'.
We have covered these under credit card scams, and particularly skimming.

Advice to Avoid Travel Scams
Buy your vacation travel from a business that you or your friends know. Deal with organisations who are members of a professional association such as the American Society of Travel Agents, Association of Retail Travel Agents, or the Cruise Lines International Association. Remember that the travel industry is a competitive one, and few businesses can afford to seriously undercut other travel business prices
Check to see if there are any complaints about the organization by using the Better Business Bureau
Travel with a reputable tour company so you get what you pay for, and your safety will be a primary concern. Almost all travel offers that come to you through a bulk email posting are travel scams
If you receive a travel offer or prize as a result of winning a competition you didn't enter, its a scam
Read the conditions of any travel offers closely and understand what it is saying in order to avoid travel scams. If you receive an offer that says you have been selected to receive a 'luxury dream holiday' offer, it doesn't mean you are offered a free holiday! It means you are offered the opportunity to pay for a trip! "Blackout periods' are times when no discount applies due to peak season, school holidays etc. 'Subject to availability' means you need to check the availability of the dates you want as your intended dates may be unavailable
Before you pay any money get all your vacation arrangements in writing. You should also know what the refund and cancellation policies are. Check the details of your hotels and flight numbers are provided and follow up on them
Pay by credit card so you can dispute any fraudulent charges. Be aware however that you can only dispute the charges on your card for up to 60 days. Some travel scams know this and require payment more than 60 days before departure, so you are unable to challenge the charge. Don't pay by check, money order or cash, or agree to give your payment to a messenger sent round to pick it up
Check out ASTA's consumer site to avoid travel scams, as it offers more tips for keeping your travel purchases safe from the scammers. If you suspect you have been a victim of travel fraud, notify ASTA's consumer affairs office , or call the National Fraud Information Center's hotline at (800) 876-7060, and check with your local law enforcement agencies to see if they can help you
If you think you may have already been scammed, your state Consumer Department or Attorney General may be able to help you. You can find links to your state Attorney General's office here

Do You Have A Great Story, Tip, or Review About This Topic?
Do you have any experience or knowledge of travel scams to help others.

Share your story, tip or review with the world.
What Other Visitors Have Said
Click below to see contributions from other visitors to this page...

Travel Scam Ripoff Not rated yet
I am in Istanbul right now and I just got ripped off by Thomas-Ay. They are running an internet scam. They post false ads on Trip Advisor of beautiful …
Caribbean Cruise Line Scam Not rated yet
I was contacted by a survey firm and offered a free cruise if I completed the survey. When I had completed the survey, I provided my email address so …
Travel Scams