Job Scams
Job scams are now widespread and involve the theft of money, identities, social security numbers and bank account numbers.
The scammers can pose as either recruiters or employers and offer attractive employment opportunities.
With today's tougher economic times, there has been an increase in the amount of scammers looking to take advantage of people desperate to find work.
It often starts with recruiting advertisements on job sites like Monster.com or CareerBuilder.com with innocent ads like "Our company is engaged in correspondence managing, distributing different goods worldwide, buying and reselling these goods".
The job is to accept money and goods and send them out of the country. The goods may have been purchased with a stolen credit card, and the money may be payment from bidders in an auction. The origin doesn't matter - once you participate you are involved in crime [theft as receiving and money laundering].
There is no job at home receiving and forwarding packages, or sitting at home receiving and forwarding money to other countries!
You may also suffer identity theft as the scammers  also need your banking information and other personal details.
A variation is a fake job offer where the scammer asks for personal information in the application process, and then this information is sold to a third party, or used in identity theft.
Overseas job scams promise high pay, free travel, excellent benefits and excitement making the exotic job opportunities sound so appealing. They are usually run out-of-state and use a post office or mail drop address to make it difficult to track the operation. Some of the sophisticated job scams even include an telephone interview to make it sound more legitimate, and then ask for the personal information.
Sometimes the scammer will ask for credit card information to book travel for the applicant to attend an interview.
Some warning signs of overseas job scams include:
They require money to be paid upfront, especially for 'locking in' a job
They don't have an office and use a post office address instead
They guarantee refunds [but are not around long enough to have to pay]
They charge fees for providing job leads [some even impersonate a prospective employer to ensure they get paid for the lead]
'900' phone number operators that are used for interviews or to get details to send out application forms - so you get billed a large amount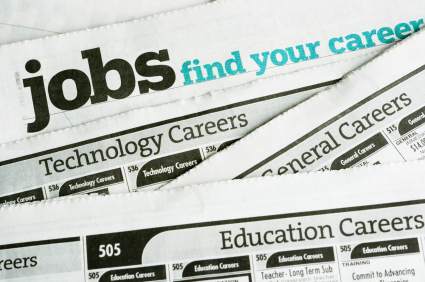 Red Flags of Job Scams
Request for bank account numbers
Request for Social Security number
Request to scan your id such as a drivers license to verify identity 
Require money upfront to get a job - no legitimate employer asks for your money
A contact email address that is not a primary domain i.e. companyname.com with a Yahoo email address
These words in the job ad combined with some of the above: wiring funds, package forwarding, money transfers, foreign agent agreement, Paypal and eBay
Firms that can claim to place you with an employer without meeting and interviewing you
Be wary of firms that operate outside of the state where they advertise
The firm wont put its promises in writing
You received an offer via email for a job you didn't apply for
The job ad has a combination of high salary and 'no experience necessary'

Advice for Job Scams
When applying for a job online:
Never give your social security number to a prospective employer

Never give personal account information, credit card details or Paypal information to an employer
Never transfer money and retain a portion as your payment
Never transfer, wire or forward money to an employer
Never agree to have funds or paychecks direct deposited into any of your accounts by a new employer. Wait until you meet your new employer in person before agreeing to this. If the employer is the US government, and you have been interviewed in person and are satisfied the employer is genuine, then direct deposit is fine
Forget about companies without a legitimate street address
Ask for references and check them out
Watch out for 'overseas' opportunities that seem too good to be true
Don't be fooled by official sounding business names. Scammers use names similar to legitimate, reputable business names
Avoid firms that operate only through a telephone or email
Check with the Better Business Bureau to see if any complaints have been filed against the business       

Check this advice about posting resumes to avoid job scams

If You Have Been a Victim of Job Scams
Close all bank accounts associated with the scam and open new accounts at a new bank
Contact your local Secret Service field agent and file a report with your local law enforcement
Order a credit report from the 3 main credit bureaus every 3 months and look for unusual activity
Close all email addresses associated with the scam
Report the name of the company and any representatives you dealt with to the job site where the ad was posted
File a complaint with the State Attorney General's office of consumer affairs, the regional office of the Federal Trade Commission, and the local Better Business Bureau
Do You Have A Great Story, Tip, or Experience With This Topic?
Do you have any knowledge or experience of job scams to help others.

Share your story, tip or review with the world!

What Other Visitors Have Said
Click below to see contributions from other visitors to this page...

Beware of official Email ID

The email read "We received your acceptance of the job. Please, see the application form in the attachment. Note, we do not ask any secure details, only …
Laura Not rated yet
Beware of Laura who applies for jobs online which she has no qualifications or skills for and then becomes very abusive, insulting and threatening to you …
Im a sucker, but not all the way Not rated yet
I went to an interview for 2 companies and almost went to a third that were all pyramid schemes over the course of a year or two. The companies in order …
Job Scams