Psychic Scams
Psychic scams can come to you in different ways such as through the post, in an email, by a telephone call or even face-to-face. There are a few different themes, but all of the scammers want to trick you into giving them your money.
In general, a psychic scammer will claim to know that you are in some sort of trouble and offer a solution. This solution could be removing a curse or jinx, a lucky charm, some winning lottery numbers or advice to get out of trouble.
The scammer will tell you that they will be able to help you, in return for a fee!
Often these scammers are also linked to lottery scams and so you may receive a letter or email shortly after contact with the psychic scammer to advise you have just won a lottery that you have never heard of, and don't remember ever buying a ticket in.
Scammers may also try and talk you into buying their 'special insights' or  'secret of wealth' or other plans that they claim will bring you good fortune and money.
Some scammers also make money by charging you to claim your lucky charm or secret of wealth, and then send you a worthless item in return, or nothing at all.

How do the Psychic Scams Work?
Psychic scams prey on people's emotional vulnerabilities and statistics advise we will all face at least 3 difficult times in our lives. Some psychics claim to have had visions about phases of your life, or have foreseen your lucky numbers.
These scammers advise that you could come into a fortune if only you send funds to a mail box for golden eggs, talismans, or fortune telling guides to personal wealth.
An alternative is that the psychic will do a reading or session.
And not surprisingly, it usually starts with a free reading, "just for you".
The material appears to be specifically written for you, but is normally bulk mailed from overseas.
They will sell you your lucky numbers, talisman or "wish amplifiers", that will bring you great personal wealth, often through playing lotteries. The talisman are usually plastic junk items such as beads or even cards.
An Example of Psychic Scams
Sara Freder (from Rambouillet Cedex France) is one of the many so called psychics however she has been exposed as a fraud on many websites and forums. Western Australia's government has declared her a fake:
"Sara Freder uses the hook of a free horoscope email to get you in, then harasses you for her paid services and she can even take money out of your bank account. Proclaiming to be the greatest clairvoyant of this time, Mrs Freder claims her horoscope will help resolve urgent romantic or financial issues, and as a further bonus she will also provide you with your lucky numbers.
In poor English, Mrs Freder's website claims she is "the clairvoyant of celebrities, politicians and big names in sport."
Testimonials claim overnight financial windfalls, personal change and fulfillment. Disturbingly, the displayed photos don't match the testimonials.
Once you have received your free horoscope you are then invited to pay for a weekly horoscope subscription. Be careful. The payment options are not secure and unauthorized withdrawals can occur.
Even if you don't elect to pay, once you have given Mrs. Freder your email address, you will likely receive lots of other scam mail.
Have you received an email or letter like this that points to psychic scams?
"Open only if you wish to read a personal prediction about yourself 

[your name] if you're insecure about turning a year older, don't be. Everything in your life will soon fit together, like a key in a lock of a door that's about to be opened. Beginning on February 26th, an incredible 72 Days of Good Fortune is going to wash over you like what the Japanese call a "Tsunami." (We call it a tidal wave.) You should start to feel a surge of energy soon after this date... It's five o'clock in the morning, and I'm sitting here on my bed typing away furiously, too excited to sleep... I'm sure you know the feeling. Now please listen to me carefully.

Money, romance and security are all coming back into your life in a big way. And I mean in a really big way. I'm writing as fast as I can because I don't want to leave anything out, so please excuse any spelling errors. [Everyone knows how terrible I am at spelling]."
Tarot Reader/Psychic Jobs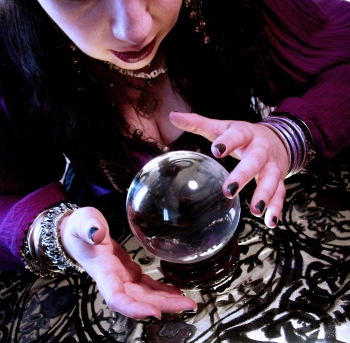 Another twist to psychic scams is when the scammers advertise how to earn big money working from home doing readings via a pay-per-call psychic service. You will be supplied with scripts, log into a phone system and begin taking calls from your home. Most ads claim to pay between $9.00 and $11.00 per hour.
The goal is to get the callers to stay on the line as long as possible. Employers usually demand that readers get the full name and address of callers so the company can send them junk mail or sell their lists. Some scammers require when starting that you have to spend enormous amounts of money on special tarot cards, training books or personal 900 phone lines.
Most people who try this give it up quickly as most employers require that you keep callers on the line for at least 20 minutes before you get paid, however the average call is only 3-5 minutes so most calls are unpaid.
Others only pay if you get name and address, but most people want to remain anonymous.
Red Flags for Psychic Scams
If any of these sound familiar, be wary!
You receive an email or letter out of the blue from somebody claiming to be a psychic or clairvoyant. This person claims to have some special insight into you
You have negative energy around you and for money, the psychic will remove it! This also applies to curses and if they see a "darkness" or bad event about to happen to you
They tell you something that is relevant and true about your life. Then they predict some sort of curse that will take money to remove
You may be asked to bring an egg to the next reading. With a little slight-of-hand, they switch the egg. When it's cracked open, it is bloody or has a slug wriggling in it. A simple magicians trick, but disconcerting to the believer
They tell you there is a curse on you and your family and to bring them all of the money that you have. They tell you it is the money that is cursed and they need to do a spell on the actual money to make the curse disappear! All that is going to disappear is your money!
The curse or disease is worse than they thought. You are asked to carry an amount of $100 bills with you at all times. Eventually, the psychic will declare the money as "evil" and appear to tear it up, or promise to burn it during a late night ceremony. Neither of these things is actually done
They tell you not to make a decision without consulting them first! When you try to break away from the scammers, they either tell you some horror story about what will happen to you or they tell you that they will put a curse on you
No candle or oil should cost above $25 and no stones above $50

If You are a Victim of Psychic Scams
Stop communicating with the scammers. Change your email & phone if you have to. Cancel all credit cards that you used to pay them with. If you paid them from your checking account, close it.
File a police report if it's a local scammer.
File a complaint with your State Attorney's office.
If the scammer is out of your state then file a complaint with their State Attorney's office as well as contacting the FBI and report it to them. 
How To Avoid the Psychic Scams
Play safe by:
Never opening junk email, or click on its contents. Just delete it
Never click on links in junk email or any email unless you trust the sender
Never click on the unsubscribe link in junk email
Never call a telephone number you see in junk mail
Never reply to junk email because you will receive more junk email by confirming your email is a valid address
Never call a number contained in this sort of email or letter. You will end up talking with someone who is trained to separate you from your money
Never believe the claims made in a junk email or letter. Check the claims out with a person you trust to be wise
Never send your bank details, credit card numbers or personal details to any person or organisation unless you can trust them
Do not make any important financial decision without getting independent financial advice first
Remember there are no get-rich-quick schemes: the only people who make money are the scammers
You can read more here about psychic scams.
Do You Have A Great Story, Tip, or Experience With This Topic?
Do you have any knowledge or experience of Psychic scams to help others.

Share your story, tip or review with the world!

What Other Visitors Have Said
Click below to see contributions from other visitors to this page...

Psychic Scams