Craigslist Escrow Service Scams
Craigslist escrow service scams are increasing because Craigslist is the most popular site on the Internet that provides local classifieds and forums for jobs, housing, for sale, personals, services, local community, and events.
The popularity of Craigslist has attracted the scammers in large numbers to perform their fraudulent activities.

The escrow service will have an official-sounding name and a professional-looking website for you to visit. You may then send them your money and the seller is never seen again. This has happened to many people purchasing expensive items on Craigslist.
Escrow services are intended to ensure security by acting as an independent middle person in transactions that involve two parties who do not know each other or trust each other.
Instead of arguing who should send the money or goods first, both parties send their items to the escrow service which holds them until both items are received, and then send each on to the appropriate recipient.
If one of the parties doesn't send its item, the escrow service will return the other item to its owner.
In the fake escrow services that the scammer has set up themselves, they specify that the other party use the escrow service so that they receive the money or the goods themselves. The fake escrow service assures the victim that the scammer has sent the item, and that they should now send their item to the escrow service.
So the victim sends either money to the escrow [if buying], or the goods to the escrow [if selling] so that the scammer can then close down the escrow, and blame the escrow if the victim complains.
Avoid Craigslist Escrow Service Scams with these 10 tips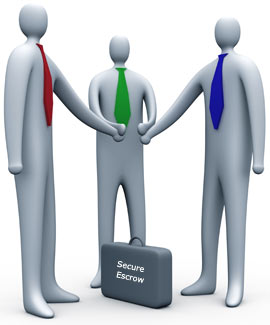 1. Watch out for copycat sites
Escrow.com is a legitimate escrow site, recommended by eBay. A lot of scammers copy content from Escrow.com when they build their fake escrow sites. Internet Escrow Service (IES) is a wholly-owned subsidiary of Escrow.com. IES only provides escrow services to Escrow.com. Any site that claims otherwise is fraudulent

2. Call customer service
Call an escrow site's customer service number. Not being able to get a live person on the phone is a big red flag. If you call and get a fax or a generic voice mail that says leave a message, than it's probably a scam.

Avoid any escrow service that doesn't list an address or phone number.

3. Don't be talked into using a particular escrow service
Be suspicious of using an escrow service recommended by an online buyer or seller. Be sure to check the site carefully before using the service

4. Verify and then trust
Verify any and all endorsements and credentials on an online escrow site. Are those really TRUSTe, Better Business Bureau and VeriSign Secure seals on an escrow site? Be sure to check

Study all licensing information carefully. Being licensed as an independent escrow company is no mean feat. Contact any licensing authority listed on the site and verify that the site is actually registered. Check this information carefully. Many scam sites have ripped off the legitimate license number of Internet Escrow Services, a subsidiary of Escrow.com.

You'll also want to check when an escrow site's domain name was registered. Many scam escrow sites say they've been in business for years but only have been registered for a few days or weeks. You can use a "Whois" tool at any domain name registrar, such as Register.com, to find out

5. Steer clear of escrow sites with poor content
A poor Web site is probably a scam. Spelling errors, grammar problems, inconsistent information or broken links are good indicators that an escrow site is a scam.

Of course, a polished Web site is no guarantee an escrow service is legitimate. A flashy, flawless escrow site could still be a fake.

6. How you pay could be a tip off
Take a close look at how an escrow site asks you to pay. If an escrow site asks you to make a payment to an individual or agent rather than a corporate identity, it's a scam.

Beware of escrow sites that use person-to-person money transfers such as Western Union and MoneyGram. Western Union is not affiliated with any escrow service.

7. Do a Google search
Search for the escrow site on Google or another search engine. If your search turns up zero results, be wary. If your search turns up consumer complaints about the escrow site, avoid doing business with the site.

8. Be wary of "safe" and "secure" online escrow companies
Scammers love to use those words "safe" or "secure" when naming scam sites. A dash in an escrow company's name, such as secure-escrow.com, is another red flag. The dash seems to show up in many fake company names.

Avoid escrow sites with Web addresses that end in "org." A legitimate escrow service would never try to pass itself off as a nonprofit organization. You'll also want to avoid escrow sites with Web addresses that end in ".biz", ".cc", ".info" and ".US".

9. Don't be blinded by a super deal
Many fake escrow sites place fake ads on Internet auction and classifieds sites. These ads promise potential buyers and sellers unbelievably good deals.

Another tip off is when you send an e-mail to a buyer or seller and you get a scripted, "Dear Sir" response, referring you to an escrow site that they've used many times.

And if a seller offers to pay shipping and insurance on a really big item, that's another red flag that the deal may not be legitimate.

10. Pass on overseas escrow companies
Avoid escrow companies based outside of the United States. Many escrow scammers are based overseas. You'll want to stick to an online escrow site that's based in the United States and one you've checked out carefully. It's also a good idea to use an escrow company recommended by an online auction site. For example, eBay recommends using Escrow.com for transactions valued at $500 and up.
Tips from Escrow.Com
Fraud sites often claim they are associated with Escrow.com. However, Escrow.com is not associated with or affiliated with any other escrow site.
Many sites claim their escrow services are provided by Internet Escrow Services (IES). This is because IES can be verified to be an independent escrow company licensed in California. However, Internet Escrow Services (IES) is a wholly owned subsidiary of Escrow.com and only provides escrow services to Escrow.com.
If a site looks similar to Escrow.com, it is likely fraudulent. A legitimate company will spend the time and effort to create their own brand and will not steal the work of other companies.
Fraud sites often claim they are recommended by eBay, eBay Motors, or Yahoo! Auctions.
You should call the customer support number (if any) on the site. If there is no phone number on the site, or if you can't reach the company, it could indicate the site is fraudulent. Consider whether you want to entrust your transaction to a company you can't reach on the phone.
Do a search for the company name on Google (or similar search engine). Established companies will generally be listed. Fly-by-night companies will not generally be in the list.
See if the web address of the escrow site is registered with the Better Business Bureau
Determining the date that a domain name was registered can often give clues that a site is fraudulent. Many fraudulent sites claim that they have been in operation for several years, but their domain names have only been registered for a few days or weeks. To determine the date a domain name was registered, you can use the "whois" tool found at most domain name registrars.
If a site uses person-to-person money transfers such as Western Union, it is probably fraudulent.
If the escrow site requests payment to an individual (or "agent") instead of a corporate entity, it is fraudulent.
If a site only accepts wire transfers, e-currency, and other similar untraceable (or difficult to recover) payment mechanisms, it may be fraudulent. However, just because a site accepts credit cards does not mean it is legitimate – the site may be set up simply to steal credit card information. If you wire money to an escrow service, ask your bank to tell you where the wire transfer is being sent.
If the site does not use SSL to protect user sign-in information, it is not a secure site and is most likely fraudulent. Most browsers display a padlock or similar symbol in their status bar to show you when your information is being protected by SSL. However, having a SSL certificate is no evidence that a site is legitimate.
Be wary of sites that have escrow fees that are unreasonably low. It is unlikely that a site that charges as little as $2.00, for example, can legitimately perform these services and still stay in business.
Being licensed as an independent escrow company is not a trivial procedure. Licensing is required by the laws of several US states in order to perform transactions in those states. One of the key states requiring licensing is California. If a site does not clearly state how it is licensed, it is probably not licensed. If a site lists licensing information, it should list the licensing authority. Contact the licensing authorities listed on the site and verify the site is actually licensed by those authorities. Be cautious on the validation. Several fraud sites have in the past given out the legitimate license number of Internet Escrow Services (the wholly owned subsidiary of Escrow.com).
Spelling errors, grammar problems, broken links, and inconsistent information (such as the location of the escrow company) are usually additional indicators the site is fraudulent.
www.escrow-fraud.com keeps an updated list of the escrow scam sites and legitimate sites. Visiting this site will help you better protect yourself when transacting on the Internet.
Craigslist Escrow Service Scams