WWF2 Scammers November 2020
by Biggles777
(Australia)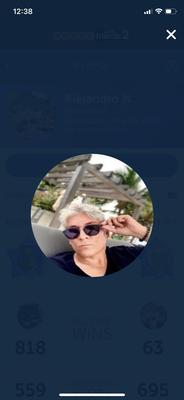 Alejandro N WWF2 Scam Profile Image
Hello


The attached are some of the Nigerian scammers on WWF2. All profiles are active and they all want Hangouts. Their approach is to just get you off the game. They won't answer any questions on it and expect you to go to Hangouts without even knowing your name.
The link below shows some exchanges on the game between my alias and them;
https://www.watchforscams.com/nigerian-romance-scam-some-warning-signs-on-wwf2.html
The first is Jalendro N a player since May 30. Originally TSmith a USMC Brigadier General in Kabul. His military scam is elsewhere on this site. The image changes to the man and name you see. He tries to start afresh not expecting me to notice. This is organised as they have another account from last year.
The second is Mark Anderson and his scam is also elsewhere on this site. Another one who comes back but with no change on their profile picture.
The third is Dr Perry Knight with the UN in Syria. In the above link you can see his approach and how my alias tells him there are no UN personnel in Syria.
The fourth is Captain Thomas L. He is from Copenhagen and without knowing my alias name tells me to go to Hangouts. He sends his account and refuses to answer any questions about himself. Some of our exchange;
Him: Copenhagen but currently in Maersk working
Him: hope we could talk outside here and get to know each other better
Him: add me up
Him: thomasmadson504@gmail.com
Me: Hi, you don't know my name and Maersk is a company not a location
Him: okay tell me what your real name?
Him: I know Maersk is where I work. I'm a Captain Thomas
Him: add me up let talk better okay?
Me: What does a Captain Thomas do for Maersk? They're a big company.
Him: Yes i know
Me: So you don't know what you do for them?
Him: I said I don't talk here much understand
Him: add me up and let talk better
Him: ?
Me: You're another one who can't say what they do. I'm not looking you up cause you'll just lie
He resigned and moved on.