William Sybastine Oil Rig Engineer
by Biggles777
(Australia)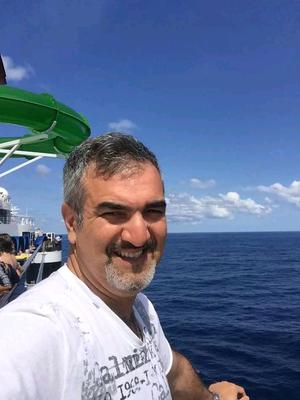 Stolen Image of Innocent Man Used by Nigerian Scammers
Hi


William Sybastine says he is a construction and fabrication engineer on an oil rig in the Gulf of Mexico. He has been on it for the past 7 months. He has a 17 year old son called Harry who attends Elsik High School in Kannapolis, North Carolina. He wants to tell you how lonely he is while finding out about you. Their work is mentioned;
Him: Decause of the nature of my job
Him: I work in the middle of the sea
Him: I'm an engineer, i work in an offshore rig, drilling oil , construction and fabrication of gas plant. I'm handling a contract here in Gulf Of Mexico
Me: Yes, I guess that makes it hard
Him: have being here for the past 7 months now
Edit: They switch to a routine and he then tells you about his past. It is a cut and paste and been seen before;
Him: I'm the only child of my parents. My parents died long ago. my father was a military man who died in a military war when I was 7 years old and my mother died when I was 13 years old. I was raised by a neighbouring teacher, growing up was quite difficult for me but I never gave up.
Edit: When asked where he grew up they take a long time to say California. He also claims to be a God fearing man. He also says you are to be his wife. Then one day he just tells you to buy him a gift card;
Him: Ok dear if you go to the beach what can you get for me?
Me: What do you mean?
Him: So my dear you said that you are going to the beach and I said that what can you get for me
Me: lol there's only sun, sand and sea
Him: Ok so can you go to the Walmart store
Me: Walmart that's American
Him: No my dear where do you live?
Edit: It is now someone that doesn't know where I live. They just tell me to buy them gift cards for no reason.
Him: Ok dear I'm still here can you get me a card
Me: A card?
Him: Yes my dear
Me: You mean a greeting card?
Him: Yes
Me: Why do you want me to do that?
Him: I want to use it for my subscription
He sends a picture of an iTunes balance on a $500 card being 98% used. I asked why he couldn't buy it and have not heard back. The above is all someone you met online telling you to top up an account of theirs.
They don't send many images and those you see are frequently used.
Email in use williamsybastine768@gmail.com