Stockdill Willams Facebook - Soldier Army Dallas, TX
by Jane
(United States )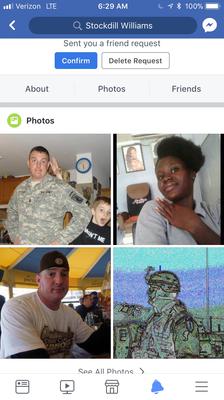 Photo's from Profile
So this is my second scammer to contact me now in the last couple of months. My name must be on a list or something now lol. He just contacted me today and professed his love in like the first hour to me and I've already called him out and shut him down.


What's gross about this one is he's posing as an Army Soldier. Said he's 57, doesn't look like it.....old enough to be my father. One son but slipped and said daughter. This one is not as smooth as my first person and this one might actually be a women because there was a Nigerian women's phone on the profile when he requested to be friends. The profile was just set up this week. Said he's from Dallas Texas which I have an office in and when I asked what area of dallas they said TX......clearly not from the US or Dallas.
This person is not the same as I was talking to before and lays it on super thick up front which was a turn off and using the god fearing a lot, which as someone who's not religious is also not attractive. Note much info on this one other than the name and a couple pictures because I just didn't feel like investing the time into this one.
Join in and write your own page! It's easy to do. How? Simply click here to return to Nigerian Dating Scams.