Pictures of Innocent People Used in African Romance Scams
by Biggles777
(Australia)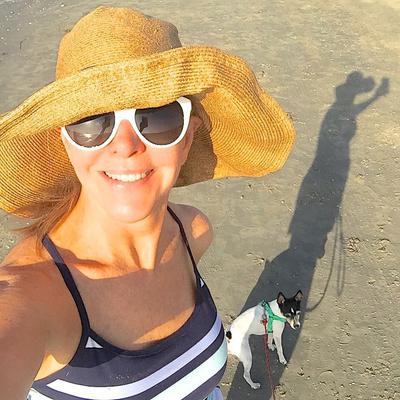 Stolen Image of Innocent Woman Used by African Scammers
Hi


Another page with pictures of innocent people used by African's in online romance scams. These are of women used against men from well known dating sites such as Match.com and POF. Match in particular has many fake profiles and scammers.
This is another from Match.com Australia. 5 times this group tried it on me with their Malaysian interior design scam. Stella Myers and Cynthia Lawrence were two others. With Cynthia I posted their template introduction letter and will do the same here for "Kathryn Lopez"
Hi,
Thanks for giving out your email to me
I really enjoyed our little chat on Match.com
I would like to let you know more about me.
As you already know, I am an Interior Decorator. I have one dog. Very lovely dog.
I'm currently in Malaysia working on a project i got for 250 units apartment Interior designs.
I have spent 4 months here executing the project and will be done in one week. So i have just one week left to spend here.
I'm a very pleasant, easygoing person with an active and fun life. I'm very down to earth, with a great sense of humor. I love to laugh. Enjoy travel, day trips, beaches, listening to a variety of music genres, playing guitar, tennis, art, fishing, wine, hiking, sports, fine restaurants or just relaxing at home.
I work hard but love to play. Very high energy level. Most people consider me very easy to get along with and a very good listener, and kisser :) I'm very conversant and enjoy getting to know people I especially enjoy discussing travel, music, art and sports.
My taste in music varies from classic rock to classical, jazz, reggae, new wave 80s. I have an insatiable appetite for history and knowledge. Love to read, but usually can't read one book at a time unless it is extraordinarily captivating. I work out just about every
day and am always looking for new challenges to help stay fit. I've traveled extensively and would enjoy meeting someone who craves a desire to discover new frontiers and see places they've never been. Most of my free time is spent enjoying all the natural beauty and attractions.
I am looking for someone who I can connect with, laugh with, have fun with, believe in and who shares common values. I am interested in meeting someone who is comfortable with who he is, interested in exploring new relationship, has a playful sense of humor, intelligent and caring. I'd like to meet someone who is open to exploring new possibilities.
I would never assume I could comprehend and appreciate the true depth and wonder of your personality and life by reading your profile. Just as I hope you would not presuppose to know all about me through a quick study of a brief internet profile. The complexities and dynamics of the human persona do not lend themselves easily to this medium. I would hope such appreciation of ourselves could be gained over relaxing and pleasant conversation with coffee. Ok, I might have a beer or two if you twist my arm :) I'm not one to serial date and i'm more comfortable spending my time getting to know one person. I'm somewhat of a romantic and would prefer to focus my attention and affection on someone special. Although I may comment on how cute you look in a particular pic. If you would like to know more about me, please let me know. I attached a few pictures for you, hope you like them.
I hope with this you can get a better understanding of who i am and what i am looking for in a man..
Look forward to learn more about you
Kathryn
xoxoxo
The difference, Cynthia has 2 dogs and more rooms on her project.
Email used: lkathryn16@gmail.com