Photos of Austin Simmons and a collage of Austin/Jeffrey Schubert
by L Rene
(California)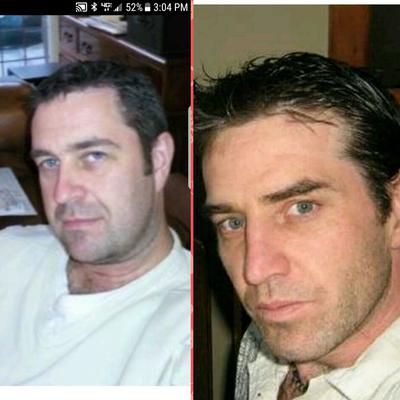 Oh yes this gets crazy, so I am on Tinder today and low and behold what do my wondering eyes should see...My lion king..but a fat version.. Same guy it is only obvious.  


So I Heart the photo on Tinder. He hearts back and we exchange information on Hangouts. Now everyone who understands the saga of Austin Simmons knows he is negative to skype, hangouts and anything but Text or email or call. Austin always said for me to bring my A game. What the hell happened to his.. .he is fat!!  
Why would someone cat fish with this image knowing I fish in Tinder regularly. So Austin calls upset and very quiet and I get the cold shoulder so to speak.  
OMG for me this is where my game gets interesting !! juggling Austin's leo ego and this new Jeffrey Schubert who is french but not born in Marseilles France.. and is born March 11.  Austin is Leo born in August.. Game on Dude !!  
What is my lion king doing ?? and who is the image its definitely the same guy.  Its obvious ~!  I want them both in my stable however Austin is at the end of his game.. he's not getting the 5000.00. 
I will dive in deeper and ask him directly when we speak. I have always asked him for the truth ..his truths. I have told him.. he is my person.. I don't believe he will ever be honest about what he is and what he does.  
Specs on Jeffrey Schubert (I got rid of this one)
has a son
divorced
civil engineer
47 years
born in March
Lives In Georgia
Wife left him due to work
This should be a hootie hoot !!  
Update 
So my friend in another country found out this guy is all over Tinder and on Watch for Scams and Found as Martins Kelvin and Harry Cole, James Bill and Hays Batte. Pics stolen from a British man named Dean. Also as Gregory Giannu and Douglas Bohn.  All on Tinder.  
The match with Austin Simmons AUSIMMONS@Yahoo.com is coming to a closure.