Oil rig scammer-Wei Logan
by Akiko
(Japan)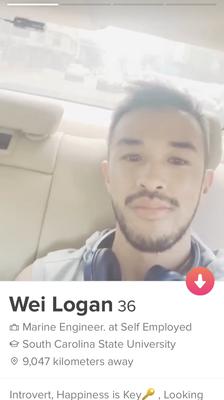 Connected with this guy named Wei Logan though Tinder. He said he was in the UK and would have a contract in Turkey for the next few weeks. He sent me lovely messages everyday and some music from YouTube in the morning.


It took him a month to ask me to send him money.
He said he had an accident on the rig. He fell into the sea and lost his ID and credit cards. He told me to send him money because he needed to provide food and water for his workers.
His demand was $3,000 dollars. Of course I didn't send him but asked him to talk on the phone. His English was not enough to tell he is a native speaker, though he told me he was from Orland FL.
Blocked him soon after the call. Be careful with this guy. He is a scammer.