Nigerian Romance Scam Mistakes - Always Ask Questions
by Biggles777
(Australia)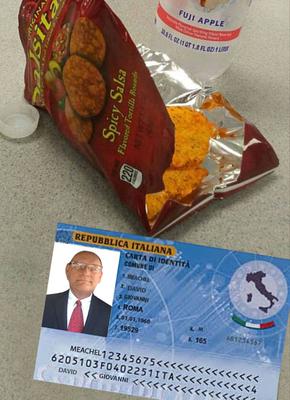 A Fake Italian Identity Card
Hello


This is a page with the focus on Nigerian romance scammer mistakes. Similar websites don't allow this but some can be shared here for people to learn. After coming across many I'm sharing some mistakes they make. Most scams are never perfect as they rely upon a non existent person. Quite often the person(s) running the scam do not know what they are talking about in relation to where they claim a person to be from.
If you meet someone online and they want a relationship, it is wise to
ask as many questions
as you can about their background.
Below are some exchanges I had with Nigerian scammers. You will see how a simple question can trip them up and also how some are just not
aware of who or what they are claiming to be
They all claim to be oil rig workers, petroleum dealers, UN doctors or US military personnel.
The following is a sample of
some
mistakes they make. Many are made if all you do is ask simple questions.
This one claims he lives in New York;
Me: Where do you live?
Him: New york
Me: Where in New York?
Him: Brooklyn City Queens
Me: You live in Brooklyn City Queens?
Him: yes dear
Me: I love it there! I guess you enjoy the short walk to Yankee stadium?
Him: I don't like football
Me: You don't like the football at Yankee stadium?
Him: I don't dear
Think about it
That is 3 NY boroughs and Yankee stadium is for baseball.
Next this oil rig worker says he lives in London
Me: You're from London right?
Him: Yes
Me: Where do you live in that city?
Him: King's Road or Kings Road is a major street stretching through Chelsea and Fulham, both in west London.
Edit: That was after a 15 minute pause and then me checking it's a cut and paste from Wikipedia
Me: That's nice. So you just walk down the road to Harrods for tea?
Him: I do
Me: You live on King's road and take your tea at Harrods on it?
Him: Yes babe
Edit: How interesting, anyone who has spent a weekend sightseeing in London knows Harrods is in Knightsbridge and not Chelsea.
Next are two who claim to live in England, you would think they could do better;
Me: You're in the UK right?
Him: Alaye
African pidgin
Me: Whereabouts?
Him: Kingston on Thames UK (It's actually Kingston Upon Thames)
Me: So you like the speedboat regatta at Henley?
Him: Alaye
Think about it
Anyone from the UK would know the regatta is rowing, not speedboats. Also a 55 year old Englishman doesn't speak African pidgin. To the next;
Me: I'm waiting for the truth
Him: I love you so much and I don't want to lose now or forever
Me: That's kinda hard given I don't know who you are or where you live
Him: You promise never to let go no matter what I say
Me: I don't care man! Where are you?
Him: I'm in Birmingham UK
Me: That's a start. Go on
Edit out a breakdown with never ending love declared for my alias.
Me: Then send me your address
Edit: The next day
Him: PO Box 5**, Birmingham, AL 35221-1098, US
Me: How can you live in a P.O. Box?
Edit: As you can see they have never heard of the Atlantic Ocean and don't know the difference between the UK and USA. The next one wants money to equip his workers;
Me: Which country are you in babe?
Him: Scotland Norway babe
Yes he just said Scotland is in Norway
Edit: If you don't know the difference between those 2 countries it's as bad as the US and UK above.
The next 2 are on oil rigs in the Gulf of Mexico and have claimed to be petroleum dealers, 1 with a Masters from Cambridge.
Him: I will text you tomorrow okay
Me: okay I'll leave you be. I see WTI is at $22
Him: Honey I don't get you
Me: You're a petroleum dealer right?
Edit: Then another
Him: I'm sleepy babe
Me: I see WTI is at $22.55
Him: Uh what's that babe?
Edit: As you can see both were timed for when they didn't expect it. But any petroleum dealer wouldn't ever get a job if they didn't know what West Texas Intermediate is. Now they like to prove who they are. My alias is given an Italian Identity card and the scammer also declares his "love";
Him: I just want you
to confirm my name on my I'd card
Edit: Insert picture of man holding a love sign
Him: I did all this because of the love I have for you
Him: I truly love you so much from my heart
Edit: In this case my alias finds out he has a
different name
this is not
uncommon
and the ID card is a computer generated one that you can literally see right through;
Him: But the fact still remain that I can never hurt you
Me: I doubt that
Him: Why do you doubt me ?
Me: Look at your ID card
Him: Why should I look at my ID Card
Me: It is a fake
Him: If you think it's fake no problem thanks
Edit: It's attached. Download then zoom in and you'll see the corner of the snack pack right through it. I've also attached a fake California driver's licence and two fake US passports. All are from oil rig romance scams by Nigerians.
An oil rig scam can take years. In this case it was 5 months before they asked for $45,000 and I get details on paying an account in Mexico. They played on the emotions of my alias to offer assistance. Over that time I know I spoke to 4 or 5 different people. This scam is run by organised criminals, they communicate and review each others exchanges with the victim. The victim is pressured, tested and sounded out by them all. Their alias was an Italian who corrected my spelling and spoke with in depth knowledge of the country, until the following;
Me: When we're together, will you take me to Sienna, just us and not the girls?
Him: Wow honey seeing movie with you will be a great pleasure
You're an Italian and don't know the City of Siena? I even misspelled it waiting for your correction!
Even organised criminals make simple mistakes
If you are sent identification for someone that you've met online the chances are it is fake. You need to search it online and
call
the issuing authority yourself. For a US passport that is the State Department or nearest US Embassy. As noted previously, when you are given identification in a romance scam it is not uncommon for a different name to appear. That should be a huge red flag. A typical example being the name on Hangouts or WhatsApp being different to the ID given.
It is important in a Nigerian online romance scam to continually ask questions. The story you are being told is all a house of cards built on lies. If you keep asking they are going to trip up and make mistakes. They also want
to control the victim
and prefer they ask the questions. If you keep asking you'll be met with some of the following or similar from them;
I asked first
You've got trust issues
Why are you asking?
Why don't you believe me?
Or given any one of hundreds of excuses as to why they shouldn't answer you.
Another common deflection ploy by them is to ask for another picture of you. Don't do it. Make them send you one of them. If on an oil rig demand a selfie on the helipad. Insist upon it. If a military or UN doctor one of them at their base, barracks or camp. They are not able to do it with the man whose pictures they're using.
If they Photoshop it, an oil rig doesn't have concrete walls and balconies for someone to sit on for a selfie. Download what you are sent, enlarge it and you'll see the blur, shadows, jaggies and more from multiple images being cut, pasted and overlaid into one.
As you can see, simple questions trip them up. Even when they provide "proof" it is fake, forged or a common template digitally altered. Images are usually Photo shopped and by downloading then inspecting most people can see the errors. In an oil rig romance scam there are reasons for asking a selfie on the helipad. No scammer will be able to ever do it.
Attached are 4 fake documents for search engines to find. 2 are fake US passports and one has been shared elsewhere on this site by 2 victims. The reason it appears here so often is that it appears to be the most widely used template available online. Anyone can download and alter it.
All of the above exchanges are real and some may find such mistakes hard to believe. It shows, if you ask, they'll slip up