More Nigerian Romance Scam Warning Signs
by Biggles777
(Australia)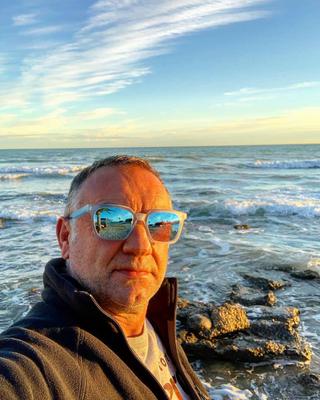 Stolen Image of Innocent Man Used by Nigerian Scammers
Hi


There are two other pages with warning signs for a Nigerian romance scam elsewhere on this site. One for WWF and the other for Scrabble GO and they are linked below;
WWF2
https://www.watchforscams.com/nigerian-romance-scam-some-warning-signs-on-wwf2.html
Scrabble GO
https://www.watchforscams.com/warning-signs-on-scrabble-go-and-more-pictures-used-by-nigerians.html
This site also has many good tips set up by the Editor. In this page exchanges between my alias and scammers on the above 2 games. The focus for this page is to highlight their approach, they always make the first move. All these exchanges can help you learn.
They phish. What they do say is what they want you to hear. Usually a case of their misfortune and what a sad life they have. They won't answer you too much and always aim to control who they've approached. They don't even want to give you their contact details, they always pressure the victim into giving theirs.
There are a lot of examples in the above links and now some more;
Derrick Mason tells you what he wants to
Him: Hello
Me: Hello
Him: Where are you playing from
Me: Australia and you?
Him: I'm currently playing from the gulf of Alabama where i work as an independent contractor with arrow energy and gas but originally from
Him: Portland oregan
Him: Oh sorry for my manners i'm Derrick mason and you're
Me: (edit)
Him: So how about you telling me a little more about yourself like your marital status or what you do for a living
Me: Okay
Him: I lost my wife with 2 other of my kids years ago in a car werck they only left me with a beautiful daughter named kimberly whom happens
Him: to be my world
Me: Okay
As you see, they're just staying with their script. I'm not saying anything and this is the rare time they will offer information. He tells you about his misfortune, job done by his definition, next, get you off the place you met for Hangouts;
Him: Why don't you give me your email address so we can keep the conversation going over there and get to know ourselves more better
Me: You can send me yours
Him: derrickmason40400@gmail.com
Him: Just send me an invitation on Hangouts so we can keep the conversation going and know ourselves more better.
Next is Kenneth. If you are a doctor, you should be able to say so better than this;
Me: I don't care about your past. Get over it.
Him: ok
Him: so can we be friends
Me: What do you do for a living?
Him: Loving wod
Him: Wroge typing
Him: i am a medi doctor doctor
Him: and you
I'm not a doctor but I think any real doctor could say it better. More of a look at them getting you off the games with "John"
Him: Hello
Him: So how is everything going?
Me: Hello, it's fine thanks
Him: Okay dear
Him: Are you married with kids?
Me: No
Him: Okay dear
Him: So you can send me your email address so we can talk more better over there
All he has is 2 texts from me and it is straight to Hangouts. Back to Kenneth who I am not cooperating with;
Him: I don't see an invitation yet send me your address
Him: Let me add you myself ok
Me: The invitation is still there
Him: Ok
Him: hi
Me: Hello
Him: Hi
Him: Can we just talk more better on WhatsApp or Hangouts
Me: Why can't we chat here?
Him: No please
Me: I looked at Hangouts and it's wonky
Him: Ok
Him: Don't you have Gmail address send me
Me: It's not working
Him: Ok
Him: Send me your WhatsApp number or Hangouts
Him: Send me your WhatsApp number or Hangouts
Me: I don't use WhatsApp and Hangouts is wonky
Him: Ok
Him: Ok so what did you use
Him: Hello
Me: Hello
Him: Hi
Him: Send me what you use
Me: Why would I do that?
Him: Ok
Him: Please can you download it
Me: Why do you want me to do that?
Him: So we can talk did you go to play store
Me: No
Him: download hangout
This is just a kid. The whole time he missed that I had sent an invitation to their address at kennethkaye63@gmail.com and all he had to do was accept. "Matthew" tells you a lot of hot air when you meet;
Him: I enjoy all sorts of things really depends on the weather, time, day and money. I have a very contagious sense of humor I love Sitting
Him: anywhere just people watching, i love laughing a lot, I love nothing more than a solid Belle laugh(laugh till you cry) I love listening to
Him: music & spending time with my friends and especially with my family, I like to constantly try to improve myself & work
towards new goals and
Him: challenge my fears, I am a very loving and loyal person
Him: Do you have kids what is your current relationship status
Me: Why are you hitting on me?
Him: I just want us to be good friends and get to know each other if that's okay with you
Me: Don't hit on me. I'm not interested.
My alias has met a couple of men calling themselves Randy. This one is mentioned in the Scrabble GO page. His Hangouts profile picture returns about 20 different names. I blocked, which I do now, as I didn't have time;
Him: Why did you block me on Hangouts?
Me: Your pictures have a lot of different names.
Him: OMG
Him: OMG
Him: I don't really understand what is going on
Him: that's exactly what my male friend here
Him: Told me
Him: i think i need to report to the scrabble go administrator
Me: That won't help you with the rest of the internet
Him: OMG
Him: OMG
Okay you get the idea. Jude George is on a UN ship off the coast of Spain. The scam is at the link below;
https://www.watchforscams.com/jude-george-united-nations-ship-spain.html
Thanks to the two women who replied as searches didn't return the images. With their information my alias blocks him and moves to email. He is not going to tell me who he is;
Him: Hello how are you? Why did you Block me yesterday on hangout please talk to me I am really so worried
Me: Who are you?
Him: I am Jude George we have been chatting on hangout
Him: Yesterday we chat and I asked you for help you promise to help me but I don't know why you block me suddenly please unblock me so we can chat I beg you
Me: You tell me this. Why did you send me pictures of a U.S. TV star? His name is not Jude
Him: I am not a TV host or Presenter please believe me this is my real picture I swear
Him: Unblock me on hangout so we can talk
Me: What a hero you are! Denial is a river in Egypt. Have a good life pretending to be someone you are not.
Him: I don't understand what you're talking about please unblock me I love you so much and I am not lying to you
Me: Yes you are. The man in the pictures is called David Venable and he's not floating in the ocean off the Spanish coast like you
Him: Ok please I want you to unblock me on hangout so I can explain everything you need to know about me
Me: No. You tell me who you are here with a picture.
Him: Please just unblock me so we can talk on hangout
Him: I need to explain everything about me I swear I won't tell no lies
Me: No. All you have given me is lies
Him: Please my Friend unblock so we can chat I will tell you everything about me starting from A to Z I won't tell no lies
That is enough for you to know that Jude George is a Nigerian scam. Hangouts is their vice of choice so a few more telling my alias to get it or get on it. If you see any of the following it is a scammer you're talking with;
Him: I want to know more about you. And honestly thank you
Him: for your time here with me because you have really help alot making me forgetting and reliefing my mind on the war here
Him: And i want to plead with you please do not let anything to affect our connection because you are the only friend and family i have right now
Him: i would want a steady communication with you to know more about each other as a friend. i woukd recommend Goggle Hangout App
Him: Do you have one?
Me: No I don't
Him: Why don't you get it from your mobile app store. Is more private and better platform for communication?
Me: I'm not getting that app
Him: Why ??
That, from a US Army General. No. Now the minute a woman says the word "single" that is their trigger to go for Hangouts
Him: What's your relationship status?
Me: I'm single
Him: oh ok
Him: i'm a widower with a daughter Lisa
Me: Okay
Him: If you don't mind I would love us to get to know more about each others outside the game because I don't come online here that's often can you please send me your gmail so we can communication on hangouts more often sharing photo
Him: you there
Him: ??
That was WWF and I never replied. Their profile picture is attached. Also attached are 3 images used as "Derrick Mason" working for Arrow Energy.