Martin Davis Doctor In Africa For United Way
by Biggles777
(Australia)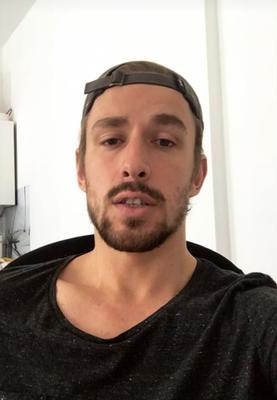 Stolen Image of Innocent Man Used by Nigerian Scammers
Hello


Martin Davis is on Words With Friends as Martin D and moves you to Hangouts. He says he is 43 and was raised in Germany but moved to New York. Studied medicine in Paraguay at the Faculty of Medicines, National University of Asuncion. His mother is from that country and his father a German. He is with United Way in Nigeria.
As a doctor he "is on "contract" delivery of babies, operation of cancer and surgeries and educating the local doctors more on our areas of specialization" He has a house in White Plains and says he is dual nationality.
He at least says he's in Nigeria and with a story like that it sure sounds like he is from that country too.
Once on Hangouts the texts start flying and to his credit he doesn't ask the scripted questions. He talks about what is going on with your lives but he isn't phishing for personal information. He starts with the love immediately. Emoji after emoji. Loving images and GIFs. He is also very insecure about you not being online. He has a lot of images and videos of the innocent doctor he is using for his alias.
He became irritating and pushy. Time to turn it around.
He sends a YouTube love song. I reply, I mean he did say he is German.
Me: Ich spreche kein Deutsch
Him: You don't speak what? (He almost understands)
Me: You're originally from Germany and don't understand that?
Him: Told you am not that fluent with German
Me: So a German national doesn't understand the simplest German term possible.
Him: Did you saw what i wrote ? (He is caught totally off guard)
Me: You're a German national, right? Yes or no?
Him: You know this already, yes
I made a point and on we go and he sends more photos and the real doctor has been to Africa. He's still on the love card. Once you've shown your interest in a romance scam the love becomes their focus. It is one of the two things they know best. He's throwing it at me and I say something pretty innocuous letting him know there's love. He is still isecure;
Him: Mark my words babe
Him: I only say that things I mean and always serious with my words
Him: Please don't play with me babe
Me: How am I playing with you? Isn't that unfair on me to express myself?
He goes into a flap and I start to ignore him. Text after text of flattery and love for days and I just don't reply. A brief exchange then takes place but I'm no longer interested in love. I'm after two things and hopefully I'll get them.
Me: No, you feel good about what you lead yourself to believe. Your woman has to be an obedient door mat
One he goes
Me: Go fluff someone else who'll be your obedient door mat
On he goes again, time to get his attention
Him: Okay dear and what?
Me: On this app, your picture is of a different man to those you are sending me.
Why?
Him: Omg
Him: I've never realised such
Him: Why didn't you tell me?
Me: You are clearly not from Germany and you use different photos of yourself. Again, I have no wish to anger you
Him: Does it shows something different at your end???
Me: Did you send me something?
Him: Yes it's loading
Me: Okay,again I've no wish to anger you
Me: Who is George Narrell?
Him: I don't know
Him: How am i suppose to know babe?
Me: That is the man in your profile picture on this app. I'm looking at it now
Me: So am I talking to George Narrell or Martin Davis?
Him: Of course you're talking with Martin
Him: Is anything wrong somewhere
Him: Please tell me whats going on babe
Me: You can't be both men nor German and there's one more thing
Me: I've no wish to anger you
Him: I know you don't wanna anger me but please explain Whats going on and what's wrong babe
Me: You are not German
Me: You're using pictures of 2 different men
But you can see where I am trying to take this and it takes time. We continue for days and he denies the points I raise or says he doesn't know what is going on. He should not have sent more photos. This is a site for scams. So I bait him and then he goes for it;
Me: Those cost $2000 here
Him: Oh that's much
Him: I'd need one babe
Him: Would you be able to order one for me?
Me: That what you mean?
Him: Would you be able to order and got it shipped online?
Me: How are you going to pay?
Him: Am gonna pay you back as soon as am back to the states babe, I would like to pay with my monthly allowance babe but it's all for my needs here babe
I've got no money
I'm in the process of finding out who he really is, bait him, he just straight says he needs an iPhone. That is his scam, he has made weeks of effort and wants something in return. I had two things I wanted, the scam and who he really is. I've the scam as bait and play that against him. Days of his love fluff then I say;
Me: I'll send it if you answer 1 question please
Him: What question?
Me: You are not the man in the pictures you have sent me. So who am I really talking with?
Him: I am the one babe
Me: Goodbye
Again more days and he is in a flap. I'm half interested but am only wanting who he really is. Then he gives in after endless texts, this is edited a little;
Him: Well I'm a Nigerian, Delta State but life here isn't worth living and the government is not helping to the society
Him: My friends call me by my nick name Eazy
Him: I'm older than 21
With that I'm done. He loves me and gave up on an iPhone and now wants cash. I'm happy he isn't.
Email still active
martindavis442@gmail.com