MARC LEROY
by Anonymous
(CALIFORNIA)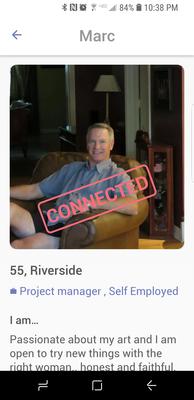 Started talking to this Marc Leroy not quite 2 weeks ago. Met on Coffee Meets Bagel dating site. This guy HAS to be one of the dumber scammers as he doesn't realize he "slips" in ALOT of what he says. Asked me 4 times what I do for work. 3 times how many kids I have. And coincidently we live in the same city HAHAHAHAHA). Less than 48 hrs into our conversation, he was leaving for a seminar in New York (very secretive and didn't want to go into details when I asked about what city in New York, what type of seminar, etc). "Arrives" in New York and texts me the next day he arrived safely. (Said he sent it the night before but didn't realize it didn't "send"). SUUUUUUURREEEE.


When I inquire as to when he'll return, he then tells me he's there for over a week, as he's putting a bid in to build some sort of office complex out of state. When I asked what state he then tells me "Cyprus". Since I already was positive he's a scammer, I tell him "Cyrus isn't a state" No reply. 20 minutes later he tells me he has to meet up with associates for dinner.
I chuckled when I wrote "So you eat dinner at 1:20AM with your associates?" He then stupidly asks me "wait what time is it there?" I replied back "well you should already know that since we live in the same city". I never answered his question.
Have had sporadic texts, only in the early morning, and then
again late at night. (Nigeria is 8 hrs ahead of California so the time frame would fit--sleep in between the message I receive).
Fast forward to today; he's doing his "presentation for the contract". I get a message a bit ago saying his phone was dead and he didn't have his charger with him (YEAH RIGHT) and that he was at his mom's visiting. I shot him a text 'Oh really? Funny you never mentioned your mother alive and living in New York".
NOT ONE WORD FROM HIM. Next thing I get is a copy of the "contract" he was awarded (shown below). LOOK AT THE MISSPELLINGS!!! This is typical of these scammers; photo-shop or obtain from the internet, insert the pertinent information, and send. No proofing whatsoever. He then tells me he's leaving Saturday evening for Cyprus, and we'll stay in touch as he's only there for 1-2 months overseeing the "project". HAHAHA.
1-2 months definitely doe NOT add up to 12 weeks. And NO ONE that's real would EVER send a copy of a business contract to someone they have not even met. IDIOT.
I did see similarities as someone had noted on his dating profile: "Passionate about"; "Project manager"; "Self-employed"; Nature", etc. These lowlife's ALWAYS use similar jobs, they like to "read", they like being out in nature, open to try new things with the right woman who's honest and faithful". That's the extend of their creativity.
So ladies, since he's on the above named dating site, chances are he's on others as well. Remember the name and the face: MARC LEROY