Malcolm Roberts ExxonMobil Oil Rig Contractor Scam From WWF Part 2
by Biggles777
(Australia)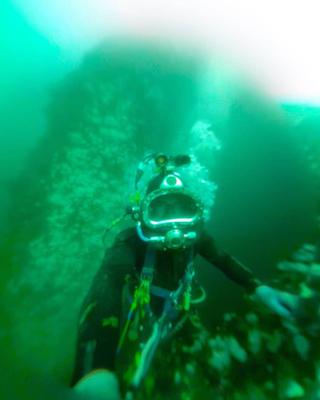 Stolen Image of Innocent Man Used by African Scammers
Hello


This is the second part of scammers on Words With Friends called Malcolm Roberts and also Malcom Roberts. In part one I gave the following information on who the person originally claims to be and how over the course of the scam I spoke with three different men. This is their original story;
Malcolm Roberts is the name used on Words With Friends. Also his Hangouts account. He is in Kansas City Missouri and an oil rig engineer. He has no interest in playing the game and goes to Hangouts as soon as he can. He is a God fearing man who quotes the bible. He then says he is a petroleum engineer for the last 29 years, he will retire this year after he finishes his contract. He says will be taking a private jet to Aspen, Colorado for a conference on a yacht. There is only a river there, no room for a yacht the size needed to hold a conference. He has a son and it changes to daughter, never mentions age or where, her name is Phoebe. He is called out for sending a picture of a Russian child actress called Kristina Pimenova, she has a very large online footprint. As with part one, this is also heavily edited to cover my alias.
Him: I am a single father with a teenage boy, because whenever I leave the states for my job tour, the late mother of my son always abuse herself with hard drugs, and it leads to us divorced, few years later I heard she was impressed with (heart attacked) and died.
Him: My both parents and my only sister has been deceased in plane crashed 13 years ago. I and my son are the ones only left in my family that i could remembered for now. Due to my job i haven't got time to check out if there is still a relatives. We were two kids that my parents gave birth to an I'm the oldest among us. My mom / dad including my only sister were on a trip (Idaho) to visit the grandmother of my father, when the plane they were in crashed on their way....
This will now focus on the scam. As with all they usually test you by asking for cards. These men were no different but after talking to two, I knew the third was very good at being a professional scammer. He was asked who he worked for. He first said Ecco, corrected himself and said ExxonMobil and spelled it wrong.
After the constant changes in part one we've settled down and are talking. He
repeatedly asks for my love and I say no. The following exchange starts after I have been offline for a day and he has asked for iTunes cards for internet data usage. On an oil rig they have satellite communications, they do not run out of data. On very remote oil rigs, some really do have communications issues. But not in the Gulf of Mexico.
It is all very simple and does not take too long to call him out. He does not work for ExxonMobil and is nowhere near the United States. These men are Nigerians.
Him: How are you doing sweetie?
Him: Have you gotten the cards yet?
Me: Hello Yes I found 2 $500 iTunes cards
Him: Ok do you have them with you?
Me: Yes I do but I need to know I can trust you
Him: Yes you can sweetie
Me: I do not think so
Him: Why
Me: Your daughter, Phoebe, right?
Him: Yes
Me: Why did you lie to me? The picture of her you sent is of a 14 year old Russian actress called Kristina Pimenova and you are not her father. Please explain?
Him: Okay...I you know I can't lie you... Phoebe's Mom hid her from me for some years now..she kept a letter in her safe saying she took her to Canada to her relatives I've not seen my daughter for some years now..I thought if I told you you would get mad I'm so sorry and in tears now😢
Him: I have not seen her in years now according to her grandma she says Phoebe looks exactly like that little girl I sent to you
He is confused. All he can do is turn to excuses and a woman's emotions. He clearly tries to tell me I'm the one with trust issues when he is the one caught lying to me twice. I've walked away. I then receive two emails;
It has no subject title. The name created on Gmail appears as "ExxonMobil Operator"
Him: Hello ***** this is the company Email...I don't like coming on it but since you insist
Him: We can't chat on this email okay so reply me on hangouts now
Me: I do not who you are. Exxonmobil do not use Gmail. They confirmed with me that any email that does not end with @exxonmobil is not their correct email address or associated with their corporation.
If you work for ExxonMobil your email will end as @exxonmobil.com
He messaged me again saying to "Hit me up" I said he was good, he knew when to walk away just like I did.
Emails used;
malcolmroberts2020@gmail.com
malcomrobb88@gmail.com
exxonmobiloperator@gmail.com