Jourge Williams US Army Captain UN/NATO Afghanistan
by Biggles777
(Australia)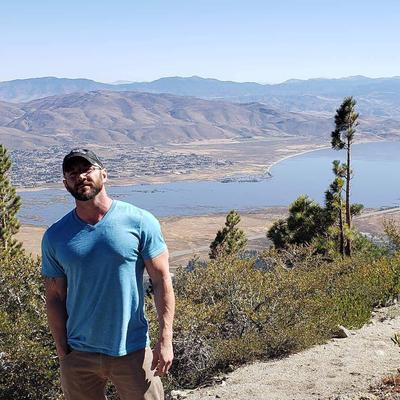 Stolen Image of Innocent Man Used by Nigerian Scammers
Hi


If you meet someone online called Robert Charles and agree to talk off the platform you meet on, you'd expect their name to be the same. Robert Charles is as fake as the name he changes to, Jourge Williams.
He provides this Hangouts address: willjour242@gmail.com
If you ever experience this online just walk away
You meet on Hangouts and pleasantries are exchanged. He wants instant love but my alias rebuffs, we're both phishing each other.
Me: So you are in the US Army?
Him: Yes my dear
Me: Wow!
Him: I have been in the Military service for 19 good years now
Me: That is a long time.
Me: So you must have a good rank, right?
Him: And my retirement is going to be next by this time
Him: Yes my dear
Him: Command Sergeant Major/CSM (E-9)
Him: That's my rank
Me: Okay, well done.
Edit and snip as photos are exchanged. He says he is 52 years old and goes on "patrol". We continue for a day or so. Him going on "patrol" becomes common. He repeats his rank and says he is a commanding officer. Having been there for 3 years he confirms he has vacations;
Him: I do come home if I apply for vacation like 2 or 3 weeks
Him: Well my family are in Frankfurt Germany but ever since I lost my parents we're not in good terms
Snip
Him: By time you will know all about me (
Stop asking questions. I don't have a story
)
Snip
Him: I'll have to tell you more about myself I can't say it all but i will summarise it, well my dad is from Frankfurt Germany and my mother is from Rochester NY. My dad met my mom in the State when he go on vacation to visit his friend in Rochester they both travel back to Germany and start up they life and later give birth to me and I'm the only child of my parents living good with them till I finally lost both of them when I was 10 years old, my uncle have to take me as his own child and raise me like his own but because of greediness my cousins turn to be my enemies because of the love their parents had for me. When I turn 17 I have to decide for myself what to do that I'll be proud of, by then I have lost my uncle due to heart attack and his wife also my uncle is the reason for me to be who I am today and I'm very proud of him, so I was left alone in the this world till I have to make a decision for myself then I move to Miami when I was 18 and I completed my Academic in Rochester when I met my Ex wife live together happily till I lost her on a car accident on her way back from work, left alone with my son in this lonely world.
Him: My cousin's are in Frankfurt Germany and the UK,but we're not in good term because he love my uncle showed me they turn against me
Snip
Him: And I
have a son
Him: His Schooling in Ontario Canada in a Military school, his dream is to be like his father
Him: His 16 years old
Him: Hie name is Mike
Snip: They phish on my alias background, work, home ownership, cars and income
Him: I have a Mercedes Benz and Bentley )
Oh wonderful, Immler all over again!
)
Snip to scam after a few days of chit chat but he is throwing the love at my alias. He also claims he is not feeling well, see's a doctor and is spending money on prescriptions. Additionally, he throws a curveball. Saying he has been to Coober Pedy several times, I think I'm being lined up for an opal mining scam. He also says his late wife was Australian and he has a dog called Jack.
My alias becomes his queen, "she" has no love to offer, he's just decided that's how it is.
Him: Okay, all is not well my dear
Me: Oh no what is wrong friend?
Him: I'm just putting myself together to make sure I go on patrol everyday
Him: My dear what I have for you is beyond my imagination
You're going to rob me
Me: Edit, on he goes seeking love, there is none on offer. Snip
Him: Sorry to ask, can you help me with something?
Me: What would that be?
Him: I'll be leaving for camp in the morning and my son's wish to speak with me in the evening and when we go on mission we leave our cell phone behind and their connection will be shot off till we're back
Me: Okay
Him: So I would like if you help me get $100 card at the store so that I cab get in touch with my Son
Me: Oh, can't you get one online from Apple.com?
Him: Well my dear I haven't tell you about that
Me: What do you mean by that?
Him: I can't buy/oder anything here in Afghanistan due to Security reasons, my salary and allowance is paid to my Bank account by the UN and the issue is that we don't have any access to it till we're back to the State before we can access it
Me: I didn't know that
Him: My Bank details and documents are intact but I don't have any access to it till I'm in the US
Me: Wow!
Him: So it hard here to get Card or Oder from online
Me: I thought being with the UN/NATO would make it easy
Him: I do have a friend that run's that for me, we agreed that he will be getting Cards when ever I'm in need of that but I have tried to reach him for the past two weeks now but his number or none of his social networks is working
Him:
That why I have to ask you
Him: I'm very worried about him because he helps me out while I'm here so that when I got home I'll have to pay him back
Edit and snip.
It is all lies. No one in the US Army is ever going to ask you for gift cards or tell you a story like he has