Jeffery Harris is now Robert Harris, oil rig scammer
by Suzanne
(Connecticut)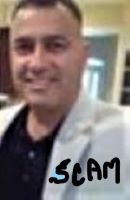 This is a stolen photo
This person is not a retired army sergeant from Ohio, drilling engineer for Chevron, nor a widower. He is a scammer from Nigeria. He will romance you, say he is moving to your town, and eventually claim to be working on an oil rig. He will then ask for money to get him out of an equipment emergency so he can get to you.


He will constantly say you are the reason for the smile on his face. He does not have two grown children, but is using stolen photos from a real army veteran.
DO NOT BE FOOLED OR WASTE YOUR PRECIOUS TIME TALKING TO THIS PERSON!!!
He is on several dating and meetup sites. Block him immediately!!! Report him to FBI and FTC. This can be done quickly online.