Independent Contractor, Oil Rig Engineer for Chevron
by Lori
(Louisville, Ky.)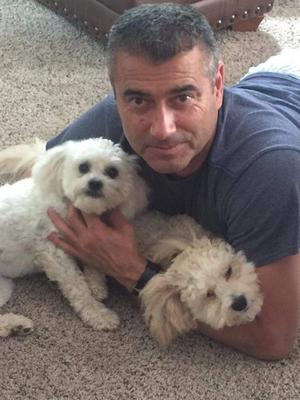 This guy contacted me from meetups. The picture he uses as his profile shows him lying on the carpet with two light colored yorkshire terriers. He is 54 years old and has a daughter 20 and a son 24 and live in Washington, DC. He stated that he moved from Italy to the US when he was 13 years old and grew up in Ohio, where his Mom and kid sister lives. He met his late wife in Italy when he was there on vacation with his uncle. She died in a car crash four years ago.


He claimed he went onto Louisville, Ky. meetups because he is relocating to Kentucky (was supposed to be 3/20/19) but he is renovating an oil rig in the Gulf of Mexico for Chevron. After a little over a week, he said he had inspectors come and he e-mailed me a copy of a check for $408,000 which was the initial payment.
He claims that he can only text when he is out on the deck and can only make voice calls when climbing up the tower. Before going on the rig, he had sent normal-looking videos to my e-mail showing him dancing with his dogs, dancing with his daughter to a dancing video game, and his daughter doing a video that puts heart graphics around those in the center of the video. They all seemed legit.
The first time he surprised me and telephoned after weeks of texting, the connection seemed very poor, and he was very hard to understand. Not sure if the accent was Italian. He claims to have 24 workers with
him helping him complete his contract to renovate the rig. He had equipment to be delivered this week, but there was an issue with customs in UK.
"Duties" totalled $28,000 US dollars. (He had expected them to be around $11,000.
His agent "Mike" can't get the equipment released until the duties are paid and starting today, there is $800 per day charge for storage. Two days ago, he was attempting to get "friends" to help him out with loans but he didn't ask me for any money. He later texted me and told me about some pretty severe health conditions have have come on due mainly to stress and was pretty elaborate on the medications that were prescribed and for what the various conditions. (see below)
"I've been on Hydralazine and Nicardipine Hydrochloride Injections which helped to widen and relax my blood vessel and now i feel quite better even though i still feel quite weak, atleast i'm still able to send my baby a message. He has also put me on some pills too which i have to take regularly until i complete the prescribed dose, Zofen (which will help regulate my blood pressure), Diurex (which will help increase my urine production and get rid of excess salt and water), Atenolol (which will also help in slowing my heart rate and reduce blood pressure."
I received a few more texts after that but none yesterday and today he has attempted to call me three times. I'm tempted to continue this to see just how further he goes but just feel that I should distance myself from him.
I hope this helps someone.