Harry Jackmann
by Anonymous
(USA. )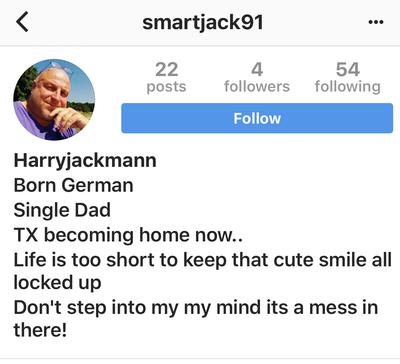 I was contacted through my instagram acct. A simple hello and then eventually he invited me to talk on Kik. Then move over to hangouts. He also asked for my email address. The emails were generalized. Same story as another woman wrote.


Single dad who's wife died during childbirth. 6 yr old son named Kevin. Supposedly lived in Odessa Texas. Won a contract in Nigeria for one month. Took the son with him. Requested some specific electronics and requested I send them as soon as possible. Kevin (who now had accepted me as his mother), requested these items from his new mom and they would keep him busy while Harry was working. He repeated the exact items he wanted over and over.
One morning I opened an email addressed to Rosa, stating that He and his "daughter"? had made it to Africa? The email went on and on about the electronics he wanted sent and was finally signed, Bill Huber.
I had played right along, then called him out in an email. His response was that he was in a drunken stupor and the names he dropped in the email were of the deceased wife and his step daughter.
I never sent anything to this man. He never asked for money, just the specific electronics.
This man now has 2 Instagram accounts.