Harrison Devea on Words With Friends ExxonMobile Oil Rig Contractor Gulf of Mexico
by Biggles777
(Australia)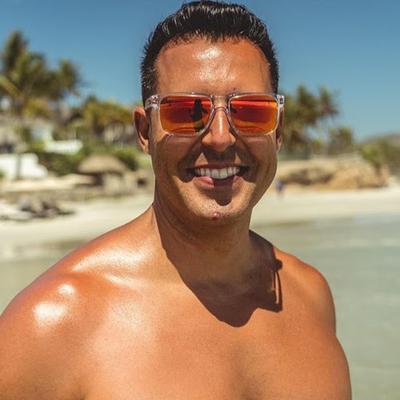 Stolen Image of Innocent Man Used by African Scammers
I met one Harrison Davea on words with friends who claims to work on contract on oil rigs in the Gulf of Mexico for ExxonMobile.


Soon he is asking to go to Hangouts. Once there it is the usual scripted African scam questions.
He says he has two children Jeffrey and Kelly aged 11 and 9 in school in California. He never mentions which one but does say he has a nanny to take care of them.
Some exchanges between him and me below;
Him: So tell me have you been on any dating site before??
Me: Yes. But I thought Words With Friends was more of a game than a dating site
We talk the usual loving things and images are exchanged. His are stolen. He then asks if I am talking to other men, he says I am the only woman he is talking too. Why is he always online? 24/7 he is online via his phone when he clearly states he'll blow something up on the rig by using it.
Him: Do you believe in distance relationship? (red flag)
Me: To be honest I have not really given it any thought
Him: Oh I see you can still get it try?
Me: Maybe
Him: What are you looking for in a relationship?
Me: Well to be honest I haven't given it much thought
Him: You aren't showing active on hangout I. Don't know why
Me: Oh really I have **** check it as she gave me the account
Me: Harrison dear. Has someone stolen your photos? They are on the web with different names.
Him: Oh that's really so bad. They're so f****** people out there you know that right. Why would someone use my pics
Me: I really didn't want to ask Harrison but I mean if you are not aware you should be dear
Him: I just have to be careful that's all. People are very wicked and bad this days
We've been talking for almost two weeks. He has covered relationships and changed how he addresses you to be more intimate. Then he starts with the textbook scam questions again.
Now he turns up the love after he repeatedly wants photos and one is given. In come the YouTube songs from Celine Dion. He goes from calling you his babe to his sweetie. That is scam talk.
More relationship and love fluff and blah, blah over several days. But now he wants you to name a place you can go to be together. He also says how long he has been on the rig, 7 years and that he plans to retire soon. He talks, when pushed, about the rig he is on.
Him: I am on rig called Jack field and is located in approximately 7,000 feet of water in the Walker Ridge area, approximately 280 miles (450 km) south of New Orleans, Louisiana in the gulf of mexico high sea.
Jack Field is the oil field not a oil rig.
Him: You see the rig have some many people working but I have a my own workers they work under me. (That would be true if you were a paid manager on an oil rig, not a contractor.)
Him: I also have a boss that pay money when we're done working it's huge amount that's the reason I work a lot and you know I always asked you about investments. (You can see, he has asked about my financial position, he got a house of cards. More importantly, what he says is not true, he would be paid by Exxon)
Him: It take time to pay money because you have to finish up your job it's a Contractor (This is good, he is saying I can't pay. Only one problem. He would be a paid employee and not a contractor)
Him: When you get anything damage at work you pay them yourself so it's experience you use to work (This is the real red flag. No, he would not be on contract nor be in a position to pay a dollar. Exxon would pay all costs)
Me: Oh okay I understand, so you are the contractor with your own workers and you have someone you report to? Is that right dear? Also you pay costs if something goes wrong or breaks? And this is Exxon right? (I know I am being lied to but keep asking)
Him: Yes that's true. I'm always been so careful at work because things are so expensive here mostly a drill oil
So you just have to be careful at work.... I do love the questions you asked it's good to know more about me sweetie (Again. simply not true. Exxon would never ask anyone to pay for drilling equipment)
Me: I can imagine oil is not cheap and nor are oil rigs and all that goes with them. But if I am right, as a contractor, you are your own businessman, is that right? (I am going along with him to find out the scam)
Him: Honey I do have a boss that take me to the rig so I'm loyal to him. Just that I have been working on the rig for long so I have my own workers that also loyal to me (Maybe if you're an employee but not a contractor)
Me: Ok I have it now and is your boss a contractor too?
Him: No just a supervisor my boss is not working he's the one that supervisor. (That's about the closest to the truth he has come)
Me: Oh alright well I understand now. So how long have you been on the rig? Is your contract a fixed term? You know 1 or 2 years? (I understand one thing. I am being lied too as nothing he says is true)
Him: I have been working on the rig now for more them 7
years. I have been working for a very long time now sweetheart I do like the job
Me: That is a very long time. So when do you get to have a vacation?
Him: I'm almost done with my contract not a lot of work sweetie so I think I will be home with you soon sweetheart (later I ask when his last vacation was and he says Christmas. So he has been on the rig for 7 weeks at that point. No worker spends any more than 4 weeks on one. If that long, their leave is longer)
Okay. That is edited slightly to protect my alias.
It goes on with more fluff and blah, blah. I get bored so decide it is time to have some fun and see what he'll say!
I step back for a few days. He messages me and soon he does show an interest in my kid. He also goes back to what he knows best, throwing the love at me.
He then sounds me out more on my wealth. He asks what car I drive, I lie, he has a 2019 Lexus but wants a brand new Range Rover.
Him: You have no ideal how much I do really love you and want to be with you sweetheart
I just want you to. Give me a try
I want you to open. Your heart
I will show you the real meaning of love sweetheart
Me: You always turn to love. There's more to relationships than that. You ask me what I plan. What do you plan?
Him: I have a lot of plans I just want to see you and make. Things. Easy for us I'm planning to see you do so many things together and make. Our future more brighter sweetheart make a happy family
Me: Okay
He sends me a screenshot of Hangouts settings to get me to show online
Me: What is that?
Him: I want you to show active on hangout. I want you to have faith okay I do believe everything will work for us it's just going to take time
Me: Well that says your device is off but you're always on your phone here
Him: My device is not. Off I'm showing you. Know to do it. You told me you. Don't know how to set it
And you wanted to tell your daughter to help. You set it. I'm showing you how to fix it sweetheart
Me: It's not broken.
Finally he does it. I say I'm going shopping and he asks for an iTunes card. So I just ignore it.
Him: Sweetheart on your back from work can you get me iTunes card
Me: hello dear I kinda got lost a bit yesterday
Him: Sweetheart did you see my text about the card I asked you about? Sweetheart you did not send me your house address
Me: hello dear. I am sorry but I ended up with the neighbors yesterday afternoon. Why do you want a iTunes card babe? Ooh no! Don't tell me you're going to download Snoop Dogg and Wiz Kahlifa too!
Time to call an end to it.
Him: Hello sweetheart. What's wrong with you. Are you okay sweetheart??
Me: No you asking for an iTunes card isn't so you can download Snoop Dogg or Wiz Khalifa. I've heard about scams where they change cards for Bitcoin
Him: Do you believe in can do such thing. Just asking you for card these not mean I will change them to bitcoin
Sweetheart I'm not like that. There's no reason doing that sweetheart (Note the poor English?)
Me: Well I'm sorry but first your photos all over the web and now this. Also Exxon pay for any costs on oil rigs and not contractors. Something is not right and I believed you (No I did not!)
Him: Sweetheart what do you think about me sweetheart. Wanting you know the reason why I want the Card sweetheart
You also use ITunes card on your phone my love
Him: Hello Don't you want to talk to me. Again just me. Know sweetheart. You're giving me so attitude
Me: And you are giving me a scam next you'll have an accident on the rig and no money
Him: Is there any reason you're sounding like this. Just because I asked you to get me a card you started calling scam sweetheart. Is this how you're going to treat me (Yes it is!)
Me: I'm not daft man. iTunes cards, your photos all over the web. Exxon don't use contractors on oil rigs
Him: I don't understand what you mean sweetheart. We can video call of you want to. I'm real okay (No he has a video of the man in the pictures with no sound. The other time he had no cam. His iPhone 7 has a cam)
Me: Well call Exxon yourself. Tel +61 3 9261 0022 Your photos are all over the web. You are not the person in the photos I am talking too.
Him: You. Just have to believe me. I'm real What prove do. You want from me. I want you to believe me okay
Him: Sweetheart you don't have to say that okay. I can video call you. I want to show you that I'm real. I. Will also send you the pics you wanted
Me: You on the rig, the helipad they all have those. Right hand 3 fingers only. I'll get a coffee, you're on your phone so it is a short walk. Do that and I believe you
Him: Alright sweetie
Me: 7 hours since we spoke. How hard is it to walk to the helipad and take a selfie?
That ended it. The man whose photos are used is innocent and his images have been frequently used. Three are attached here.
Avoid these two emails;
smile4me@gmail.com
And
smile4me152@gmail.com