Ghana Gold Scam Documents and Pictures
by Biggles777
(Australia)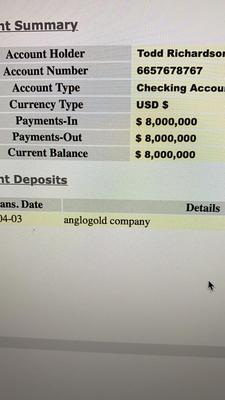 A Fake Santander Bank Account Balance
Hello


Todd Richardson is running a Ghana gold scam. Says he is an investor and flies to London to buy the gold and onto Ghana to sell it. Once sold he will return to Perth, Western Australia.
All sounds good. Except at the time he did that the UK was in complete lock down and no one was allowed to fly in. Onto Ghana he goes with the gold he bought in London. The gold is then sold and he intends to board a private jet for a direct flight back to Perth.
That took 5 days. That is not an investment in gold, very short term speculation maybe but most importantly it is transportation and nothing more. Assuming the gold exists.
He has 8 million dollars on deposit with Bank Santander. It's a shame the statement is a fake.
He then has an 8 million dollar cheque in the name of Bank Santander. Another fake.
He has an Australian Passport. He is notable to travel on that as it is a fake too.
He has a contract for a gold shipment with the Anchor Security and Delivery Company London. They do not exist.
He claims he has traveled to London, Ghana, Belgium and Dubai at the height of the COVID-19 pandemic travel restrictions. All on a fake Australian passport.
Him and his associate never left Australia as this scam is being run by two Australian nationals based in Perth, Western Australia.
If it is not gold in Ghana they are talking about it will be gold in New Zealand and elsewhere. These two people are professional criminals running as many scams as they can.