Garry Oliver from Coffee Meets Bagel
by Melody
(Chicago)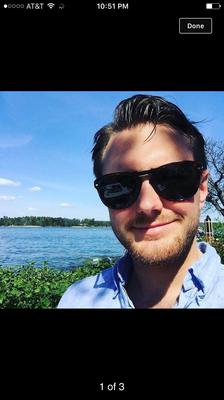 Met a 37 year old white male named Garry Oliver from dating app called "Coffee Meets Bagel." His profile listed Coal City, Illinois as his home and I live in Chicago. He claims that he originally came from Finland. Says he works off shore as an engineer on an oil rig and was currently near the coast of Plymouth, UK.


We chatted on the app for 3-4 days and then exchanged phone numbers and started texting via Viber app. He exchanged a lot of photos of himself, though were all selfies and not a lot of description from them. At one point, his mom suddenly became ill and asked me to help send money because he couldn't do any financial transfers "on the ship."
I absolutely said no but he persisted for a couple days, even asking me to purchase a Chase liquid card for $50 then send the account number over so another friend of his could send money through that to get to his mom (who lives in Canada).
I still said no and he eventually stopped talking about that.
He then started asking for money to purchase a new phone because his current one fell in water. He claims that he cannot use his phone camera to send current pics as it is not allowed on the oil rig, same with his phone as it can only be used for calls between workers but can text with family.
I finally made him accept a phone call from me a couple days ago and knew his accent was not Finnish but that of an African one instead. He's very savvy and claimed his undying love and wanting me to be his wife very quickly - even calling me his fiancé.
The cell phone number that he uses is 604-426-0900, which is out of Vancouver, Canada.
He claims that it is a number given by his company so not to be distracted by other family if they are to use personal phone numbers.
Anyway, I found the real person (on Facebook) of the photos - Alexander Konig of Sweden. This was made possible by doing reverse google image search of just one of the photos. I actually sent him a message on Facebook to ask if he was aware of his photos being stolen and have yet to hear back.