Dr. ALEXIS ERIKSON
by Rose Anne
(Ontário - Canadá )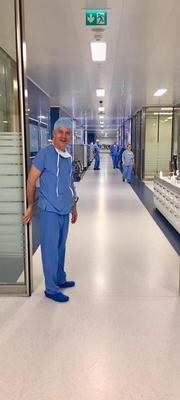 That's the liar
This person says he is a heart surgeon, very successful by the way who is presently working for MSF (Doctors without Borders) in Damascus/Syria. He is a widow who lost his wife in a car accident 5 years ago and he has a 15 year old daughter.


Thank goodness I didn't waste too much time with this asshole because as soon as he sent to me his passport picture I put it in a program that finds out if there is the same picture on the Internet. BINGO!
The passport picture was exactly the same, same background, same finger holding it. He just took the lady picture and put his own picture.
He asked me to add him in my contacts on INTERNATIONS app. Once I added him there he asked me to go to Google chat / Hangouts that would be better for us to chat there.
The only thing I am really mad with myself is that I gave some info about my life, such as my son's name, pictures of my face (never the whole body), a picture of my dad because one day I was feeling really down (October 12th, the date my dad passed) and he sensed that I wasn't okay and unfortunately I shared something so precious to me that is my dad's picture.
I am so stupid. Thank goodness it wasn't for long and he never asked me for one cent. Maybe he was trying to make me really attached to him before starting asking for money.