Donald Frank Shell PLC Independent Oil Rig Contractor
by Biggles777
(Australia)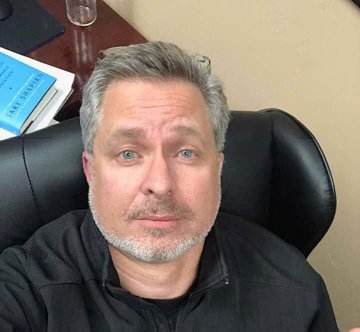 Stolen Image of Innocent Man Used by Nigerian Scammers
Hello


Frank Donald is his name on Words With Friends. He approaches you and starts playing a game then asks to go to Hangouts. On Hangouts he fails the profile image search. It returns a man who is different to the one in the picture's he'll send. He starts phishing about you immediately wanting to know family, friends, relationship history, work, your assets etc. He does make an effort by researching what you say and commenting. This is different, it is all him sounding you out. Then he decides to talk about family, work and money more.
In the game he clearly tells you he has two son's. Then he says he only has one son 15 named Logan. He changes that to also having a daughter called Charlotte. He gives no age but says he is from West Virginia. An independent oil contractor in Mexico. He lost his wife to the "cold hands of death" Says his birthday is in October. He works for;
https://travisoffshore.info It didn't work back in April and I still can't open it. He says my PC doesn't support it. He is in the "Golf" of Mexico.
We continue and he's starting to show a strong interest and developing feelings for you. He starts sending love emoji and turns up the flattery. He's wanting all your attention and quickly you're his woman and he's wanting a vacation with you.
Him: I want to show the world how lovely, beautiful and kind hearted my woman is
Him: I want to have a vacation filled with bliss with you
I'm playing along, even talking it up and baiting. Then the classic oil rig romance scam lines;
Him: Of course
Him: We're going on that trip once am done with my contract
Me: That sounds great and when do you expect that to be?
Him: 2 months time
Him: That's when my contract will be over
Quick edit for a few key lines he's mentioned
Him: Anything for you without hesitation
Him: Would like for me to relocate over to Australia?
Him: I want to come over to you
Him: What kind of house do you think we should buy?
So there are ten red flags after a week and without the love he's already telling you that you're his woman and he is coming to be with you. One red flag is missing. His wealth. But before, back to the love, he's working the script but better than most. The following quote is a cut and paste I've seen several times;
Him: Alright you know life is special and I like to wake up feeling excited of what the new day brings,
even if that means bouncing off the planets.
That is used frequently so worth noting. The love is being turned up. YouTube songs and loving images and GIFs are being sent. The texts are very long. He's a jealous man too. It's lengthy so I've edited but it is another classic romance scam move.
Getting you off the site you met
Him: You're still playing words with Friends
Him: Who are you playing with?
Me: I haven't checked
Him: You know I've told you I can't hide my feelings from you you're the reason I go online there I feel jealous whenever you're playing there and not talking to me
Him: I would like it if you'd stop playing
Him: I just want to tell you that I want to protect you, steal your smiles, stop your tears and wake up by your side. You are the most wonderful thing that ever happened to me
Me: Hmm okay well I am happy not to play as much for you
His response was clear he loved what I said. He wants that? He gets the total opposite. I stay in the game and I step back and slow the pace down. He's not happy;
Him: Am getting worried Haven't heard anything from you I hope you're doing ok??
Me: Hello how are you?
Him: And you didn't bother to let me know you won't be coming in here
Me: Well I didn't know work would be like it was
I fluff
We continue at a slower pace. He's not happy with me but tolerates it.
Him: It seems like you are always busy
We continue. I'm waiting for something. He's throwing love and he's got my bait yet still no mention of his wealth. In an oil rig romance scam they've always got money. Finally they take my bait. I need to edit this;
Him: I have been looking forward to invest on shares ,Stocks and bonds but I have been really scared recently bitcoin but I was really scared due to the Global financial crises that saw me and my partner loosing almost £340,000,000 British pounds sterling
Him: I lost my best friend and my partner to that crises and since then I have been really scared of any investment
Him: It really cost me a lot
Him: I had to start afresh with some loan and some money I had on my inheritance which
I have not accessed
but thank God for today
Okay so he has had it, lost it and inherited it which he says he can access. Whoever it is talks the British Pound and not US Dollar. He has up to 1 million to invest and makes it clear
he has money
Then totally fluffs what he is talking about;
Me: When would that be? Why are you interested in Sterling?
Him: Sterling ??
Me: Yes British
Pounds
Oh come on!
You just said you lost 340 million of it and now don't know what it is!
Him: Well like I said if I can be sure that I have your love , trust and confidence I'm willing to start with the process of retirement which is not going to take more than a week
Him: Because that's the currency that use in getting my contract sum
and you don't know what Sterling is?
Him: My contracts are with Shell oil company
In comes a major oil company
Me: Oh okay
Now we have the final piece to the scam. His wealth. It's edited but he said he has money. Had it and also doesn't
know what currency he is talking about
he later says he had to sell a private jet. He sends a video of an oil drill and says work is hard for him and his workers. He boasts of the size of his contract and confirms he is on an oil rig.
I've been stalling and avoiding. I've now found almost all the pieces of the scam. He is not happy;
Him: And why do you like leaving our chat without informing me ?
Him: Your notification here is not showing that's why I randomly sent you messages I hope you can understand what am saying
I'm learning too. We continue and this is becoming a proper oil rig scam. I think he'd like to be throwing love every day but as you see I'm not around all the time. We continue for weeks, he makes an error
Me: What time is it there?
Him: It's 9:26 am
Lagos
Him: 03:36 am
Texas
Me: Oh that is good but aren't you up late
Him: Typo error please 2:26AM American time
No you just fluffed it
I'm now his queen, wife and I think I've changed who is talking with me. Now the money in the scam; I have to edit but you can put it together;
Him: Working here is entirely different I work 12 hours a day sometimes so the other 12 hours is for rest my queen I want you to know am taking care of my self here ok
I'm working hard
Him: Am so exhausted right now went through a lot of stress today
Me: Ooh babe you have to get some rest
Him: One of my machine here is having issues refining oil I find it so disturbing because if it continues that way it's gonna make it hard for me to leave here before my expected time
Him: I just pray things doesn't go south
He's timing this over days
Him: Thanks baby I just have to wait for my engineering team to give me some heads
Me: Well I do hope everything goes well babe and let me know if I can help in any way
If you were a vulnerable woman there's so much love that he isn't asking for the money. Instead
he has played on your emotions to offer assistance
now he takes you up on
your
offer; (edited again)
Him: Finding it hard to get some sleep my queen
Him: I haven't been this worried my whole life
Me: Ooh babe I don't like hearing that. Is there anything you can do? I don't want my man stressing
Him: Am waiting on my engineers to get back to me my queen just give me some few minutes
Edit
Me: Please don't stress and I'm here if you need as we're a team
Him: Have missed talking to you, its been a challenging day for me.. I just got out of a meeting with the a Shipping Company in China.. Its urgent i need to order for the drilling bit, am gonna text you when i get to the cabin..
Edit, he is doing this well over 2-3 days
Me: That sounds good babe, I guess that means you can fix your equipment and fulfill your contract
Him: Yea but right now am having difficulties meeting up with the negotiation with the company, i need to make an urgent payment..
Him: Am having difficulties accessing my account at the moment, babe i need your help..
I can't access my money
Me: Okay I understand babe. Why can't you access your account my man?
Him: I just dont know, i have called to complain to my bank and they explained they detected an unknown IP Address trying to hack into my account and thats why they put a hold on it until i can appear in person to fix it.
Him: Please baby??
Me: Ooh okay babe. What would you like me to do?
Him: I need you to help me with the payment, am gonna pay you back when am visiting with you,
Him: Please?? You are the only source i have right now..
Edit: The scam is now complete
Me: Okay babe, we're a team. Just tell me what you need
Him: It's urgent and i need you to make a payment of $35,999..
That is a big financial hit
Him: Please??
Edit to where he sends bank account details. He does want a wire transfer but I insist on a bank
Acct # 296741****
Routing # 12100****
Swift# WFBIUS6S
Bank Name: Wells Fargo Bank
Name: Deb**** Casc****
Bank Address: 3602 Washington Blvd Ogden Ut. 84403
Beneficiary Address: **** grant Ave, Ogden Ut. 84401
There you have it. A mini case study of an oil rig romance scam lasting around 6-7 weeks
Email used
donaldfrank287@gmail.com
Phone number
+1 213 357 3204