David Miller Seafarer in Scotland
by Biggles777
(Australia)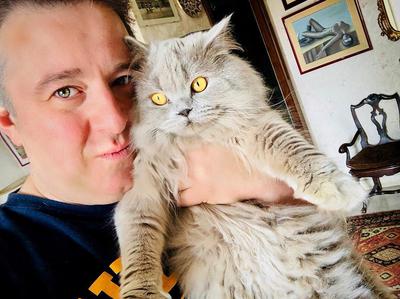 Stolen Image of Innocent Man Used by Nigerian Scammers
Hi


David Miller is on Scrabble GO and says he is 52 years old. A seafarer with both parents dead and an only child. He does say he is in Scotland. He starts immediately with the scripted questions;
Are you single
What are your hobbies
Likes and dislikes
Your family and background
Favourite colours, movies and foods
What you do or do not own
Him: I live with my lovely son before in my house but now he is gone to school and i'm all alone in my house anytime i'm off its a 3 bedroom bungalow there In Los Angeles,and I also have another bungalow with 4 bedrooms in a confined space in washington DC
Him: My goals and dreams in life are to be with the woman of my life whom I will call my wife, who I will love and we will both live together and have a loving family forever
Him: Do you believe in distance relationship?
Him: Yes I do believe in distance relationship, because I do have the faith I will meet the woman whom will love and cherish
me as I do
Him: Are you willing to relocate if you find your soul mate?
Edit: All that after my alias said happy being single and wants to stay that way
Him: Will you remarry if you find mr right?
Edit: You get the point. The photo he i using of an innocent man is well used. I ask
Him: It's possible for you to know me you can ask whatever you want to know about me I will let you know
Me: You won't like me though
Me: Who is Joshua Karl?
Him: I don't know who is Joshua karl
Him: Who is he please?
Me: That is the name of the man in the picture you sent me.
Me: Also Micheal Josh Karl
Me: Why all the names?
Him: lol
Me: Yes just another joke for an ALF like you
Him: That's not my profile sorry it's a fake profile
Me: You have multiple fake profiles?
Me: All in different names?
Edit: I'm not going to bother any more. They'll just change the name, email and images.
Email in use david606miller911@gmail.com
The main lesson from this is to always search the images you are sent if you meet someone online.