Collins Jacob United Nations Afghanistan Doctor Scam on WWF Inbox
by Biggles
(Australia)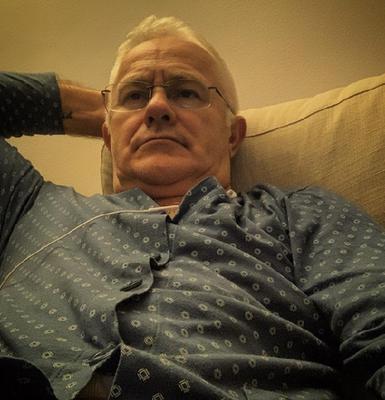 Stolen image of an innocent man used by Nigerian scammers
Hello


Met one Collins Jacob on Words With Friends username Collinsjacob. He moves you to Hangouts and doesn't really say too much. He does the talking with all the usual questions. Favorite color, food, music, movie and then about you, your family, work, life story and nothing else.
He says he is 60 years old on April 10th. Has a son James 14 going on 15 soon. Lost wife in a car crash a long tome ago. Says he has a medical center in the USA but doesn't say where. Is an orthopedic surgeon with the United Nations in Kabul, Afghanistan. Not in the military but on a 6 month contract. He never identifies what nationality he is so you assume American. Once the contract is done he will leave to be with you.
All the usual love talk happens and he just one day tells you that you love him and assumes you do. Life is hard where he is and he misses his son. He asks for iTunes cards;
Him: Baby my son called me this morning
Him: Baby please can I see your pretty face again
Me: Sure I'll send one soon. How is your son?
Him: He is fine
Him: I told you that he like iTunes card
Me: Okay
Him: Baby can you send him as a surprise please, am very busy for now please
Me: Where is he?
Him: Minnesota
This is a scammer testing to see if you pay. I don't and ignore him for a few weeks. We again get into talking daily, he again goes into declaring love for you. He says insurgents are creating problems and he is being transferred to Herat to work there. He sends images from the news which are 2 days old, the other is from 2003. He says the following;
Him: Yes right now then is war
Him: At least 69 pro-government forces and eight civilians were killed in Afghanistan during the past week. The deadliest attack took place in Ghor Province, where the Taliban attacked security outposts in the village of Salah Khana in Kamenge area of Shahrak District, where clashes continued for four hours. Six commandos, five soldiers and two members of police Special Forces were killed and 20 others, including commandos, soldiers and police officers, were wounded. Local authorities claimed that 15 members of the Taliban were killed in the clash. In Badghis Province, four police officers and one member of police Special Forces were killed in the center of Qadis District, when their outpost was attacked by the Taliban. Amid clashes with the Taliban, the Afghan government is grappling with the coronavirus, which is spreading at a time of raging war and a political crisis that has stalled governance in the country.
Me: But you're United Nations right? Not U.S. Army?
Him: Yes
Him: United Nations
Me: Ooh where in Afghanistan will you be?
Him: Herat
Him: Do you know that
This is a good example of
a scam where current events freely available in the news are available to the victim. We continue to talk and he starts to tell a story of hardship in Afghanistan. He doesn't know what UNAMA is yet he is on contract with them.
He mentions financial difficulties and wanting to be with you. He can't travel. Then he says he can't access his bank accounts, no reason why. He needs money for James school fees, I think. The few weeks we didn't speak he has used to go back over our chat history and he makes a real effort on what you have told him.
Me: Great thanks I'm sort of working now
Him: OK so no store haven't open (Okay, he still wants iTunes cards)
Me: Just the same one we go to all the newsagents are closed
Him: ooh same with bank (I don't ask, but how about online banking)
Him: Because am trying to come back but I try to take money but they don't allow me just because of the lockdown
Me: Oh why is that?
Him: Am so confuse honey just $15,000
Me: Ooh really?
Him: Yes honey
Me: Well that is not much
Him: OK honey is then anyway that you can help
Me: How do you reckon?
Him: Maybe
Me: Well let me know and i'd love to help
Him: Ooh that's nice
Him: So honey you mean you can do something
Him: Are you there
Me: Ooh I'm here and making coffee
Him: OK so you mean you can send it
Him: Hiney
Him: Honey
Me: Well it is Sunday. Where do I send it?
Him: You can't send it today
Him: So can you make it up on Monday
Me: Where do I send it?
Him: Can you do Money gram (wire transfer, never do this)
Me: What is that? Don't you have a bank account for online banking?
Him: Yes I do babe
Me: Ooh okay we'll use that my man
Him: few mins babe
Him:
Account holder
George B********
Address: 1*** Division st B
Oceanside Ca 92054
Bank name
MIssion Federal Credit Union
710 Carlsbad village drive Carlsbad Ca 92008
Savings Account# 9121****
Rout # 32228****
Him: Missed call from Collins
Him: Are you still here honey
Me: Ooh my man
Him: Hope you have seen it
Me: Ooh sorry I missed that my man. Who is George?
Him: He's my agent
Me: Ooh okay I'll send it tonight my man
Him: OK honey once you are done you should send me the receipt
Me: Ooh okay my man
Him: Am expecting it today OK I love you sweetheart
Him: Are you there
Him: Are you doing it online babe ?
End of getting a scams details. I am doing it online here. He uses an agent, why he can't access his bank online when he says he is a doctor with a medical center living overseas is beyond me.
Avoid this email and attached images;
collinsjacob228@gmail.com