Cell Phone Scams
The most common cell phone scams are text scams that include a text to advise you that you have won a competition offering ringtones etc.
There are also missed calls or message scams that try to get you to ring back on a number that will be charged at a premium rate.
If you return the call, they will try to keep you on the phone for as long as possible in order to run up a large phone bill. 
It may also include scams involving a text to say you have been selected to receive a free new cell phone.
If you ring back, they will also mention a great monthly phone plan which is just too good to refuse. All they need are your personal details!
Once they have these they can commit fraud with them by using your credit card, or using your identity to open accounts etc.
How do the Cell Phone Scams Work?
Text Scams
You receive a text congratulating you on winning a prize [usually cash]. All you have to do to claim it is dial a number [often begins with 0906]. This is a premium rate number and if you call it, you will be kept on the line for several minutes and still not receive the prize.
Some of the competitions are legitimate, however the value of the prize may be worthless compared to what it costs you to take part.
A variation is an offer for free or cheap ringtones. Often, by accepting the offer, you are actually subscribing to a service that keeps sending you ringtones and charges you a premium rate for them.
The scammers also make it difficult to stop the subscription, and people have paid $100 for what they thought was one ring tone.
Missed Call Scams
If your cell phone has caller ID function it allows you to see who is calling or who has called you. Scammers use autodialers that make short duration calls to your mobile leaving a missed call.
The number you call back may be redirected to a premium rate service (for example a number that starts with 190 or 090) without your knowledge, which means you will be charged a lot of money per minute
The number may tell you that you have won a prize of some sort, and give you another number to call to 'claim' your prize, but they may not tell you how much the call will cost. This second number may be a premium rate number, again charging you a lot of money to get your 'prize'. Your prize may be nothing more than a ring tone subscription, which can also be a scam!
If you decide to dial the number to see who called you, you will be kept on the line and advised you have won a prize [that you will never receive] so that a large phone bill can be clocked up.
Voicemail Message Scam
You receive a voicemail message that advises you to call a number to find out about a sick or injured relative, or some other emergency. When you dial the number it is a premium rate number and you incur high charges while people at the other end try to 'sort out what it is about'!
Free Cell Phone Scam
The scam starts when you receive a text to say you have won a free phone on a first come - first served basis. There is a call free 0800 number to call.
When you call the toll-free number, you end up talking to someone pleasant claiming to represent a company working with your cell phone network. They will offer you one of the latest phones, absolutely free of charge, in return for an 18 month contract with the network that includes 1000 minutes and texts a month, which is a remarkably attractive offer.
But it gets better!
The contract is $40 a month, and although you pay the monthly bill, each quarter the company will deposit $120 into your bank account. In effect, you're getting a free phone with an excellent calling plan that you can use yourself or give to a family member, all for nothing. That can be hard to resist.
When you accept, they want details from you such as your address to deliver the phone, your bank details, in order to deposit the quarterly refund, and your credit card details, including the security number from the rear strip, in order to verify your address.
They now have all the information they need for an identity theft!
Advice for Cell Phone Scams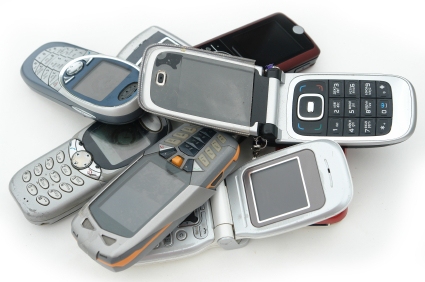 If you have received an unexpected text message from an unknown sender, DON'T respond
Don't reply to missed calls from unknown numbers. If it is important, they will leave a voicemail
If you receive a call from an unknown person, or telemarketer, don't feel pressured into any offers. DON'T provide your personal details such as credit card or social security number over the phone
Don't accept any offers [such as cheap monthly plans, or free minutes] until you have seen the full list of terms and conditions. Call your cell phone company to find out how much it costs to call the number involved in the offer to make sure it isn't one of the premium rate cell phone scams
If you respond to a missed call, hang up the instant you think you are being re-directed [to a premium rate call - such as "I will put you through..." or " I will just connect you to..."
Don't subscribe to anything you think is reverse texting
Complaints for Cell Phone Scams
If you are billed for a call you made as a result of any cell phone scams, first try to resolve the matter with your phone company. If you are unable to resolve it directly, you can file a complaint in the USA with the FCC.
There is no charge for filing a complaint. You can file your complaint using an FCC on-line complaint form  for cell phone scams. You can also file your complaint with the FCC's Consumer Center by e-mailing fccinfo@fcc.gov; calling 1-888-CALL-FCC (1-888-225-5322) voice or 1-888-TELL-FCC (1-888-835-5322) TTY; faxing 1-866-418-0232; or writing to:
Federal Communications Commission 
Consumer & Governmental Affairs Bureau 
Consumer Inquiries and Complaints Division 
445 12th Street, SW 
Washington, D.C. 20554


Do You Have A Great Story, Tip, or Experience With This Topic?
Do you have any knowledge or experience of cell phone scams to help others.

Share your story, tip or review with the world!

What Other Visitors Have Said
Click below to see contributions from other visitors to this page...

Cell Phone Scams