Cameron Jackson Turkey Diamond and Gold Mining Scam
by Biggles777
(Australia)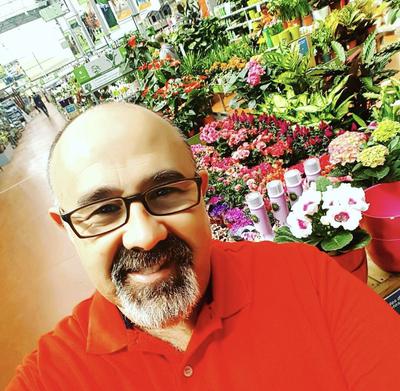 A Stolen Image of an Innocent Man Used by Nigerian Scammers
Hello


Cameron Jackson is on the game Words With Friends as Cameron J. It is the usual story of him starting a game with you then beginning a chat which then moves to Hangouts. While the approach is usual the scam is not.
Cameron Jackson says he is 55 years old and an American from New York. That is pretty much all he says. Only one photo is exchanged. He wants many but says he has few on his phone.
In the first days on Hangouts there is no rush by him. He contacts you once a day at odd times. Yes, he does ask some of the scripted questions but then he just goes quiet and returns a week later;
Him: Am sorry for not responding am currently in Turkey trying to get some diamonds,it's worth a lot of dollars
Him: For trust you can invest and get a little percentage from it, can I call you
That is it. No love declared, no barrage of texts and no insecurity that he's lost your attention. He just straight out asks if you'll "invest" with that little information. He has no interest in calling.
I respond and he doesn't. Again, he just goes quiet with only some occasional contact. When he does contact I phish and then after awhile he makes a move for money again;
Him: Have been so busy with mining
Him: Can you do me a favour
Me: What are you mining?
Him: How have you been
Me: Good
Me: You said a favour?
Him: I told you in am into kimberlite
Him: I explain that (I've irritated him, he wants control despite no love ever being spoken of)
Me: Ok
With that he goes away again for a few days. The victim has to follow up;
Me: Cameron you said you'd get back but never did. I hope everything is okay?
A day later
Him: Yes honey
Him: But I need some finance urgently
Me: What problems do you have with finance?
Him: I need to pay my workers that assisted me with mining
Him: But I don't have enough money currently
Me: Ok
Him: Am stoke here
Me: What do you mean "stoke"?
Him: I mean stock
Him: Can you assist me I will pay you double when I get to the state please
This should now tell you something is very wrong. Anyone who offers to double your money is too good to be true.
Me: You have stock but no cash. Is that right?
Him: I mean I can't live without paying my workers
Him: I have raw gold with me
His understanding of English is so bad he doesn't know the difference between stuck and stock
Me: So how may
I help my friend?
Him: But it will go into purification
Me: Can you sell the gold?
Him: Not yet
Him: Can you help me with 7000
Him: I promise to double it
Me: How can you double it? (Worth asking)
Him: When I finally sell them
Me: Well $7000 isn't much so I don't mind helping
Him: Am asking as a friend please help me if you can. I will always be grateful
Him: Thanks (Emoji removed)
Me: I guess you have a USD bank account
Him: Am grateful
There you have it. A mining scam with no love and an offer to double your money that is too good to be true. Now most won't pick up on his major mistake if he had bothered to win your heart. He got irritated when he mentioned Kimberlite. That is diamonds primarily in South Africa. So, where did the gold come from if he's mining diamonds?
We continue to talk about not much with him saying life is hard in Turkey. He then says he is stressed and what do you know? He can't access his bank account.
Him: I can't access it right now
Him: I will tell you how you can get it to me
Me: What do you mean you can't access it now?
Him: I can't,I need to visit by bank when I get to the state and upgrade it
Me: So how do I send the money to my friend?
Him: I will write my agent and get back to you
The above is a classic scam move. First, without any real reason, they can't access their bank account. Second, they use an "agent". That is how they collect when using a false identity. Or is it? Let's find out.
He's got the victim. Now they become very active on Hangouts with you. They show a real interest and make an effort to talk about current events. They've become confident and it takes them 2 days before an account appears. He does try to ask for an alternative payment method but I stick to a USD bank transfer and he agrees.
Account name:Kin***** Onuz*****
Bank name: Community Federal Savings Bank
Account: 8220001*****
Routing: 02607****
Wire:02607****
Swift code:CMFG****
That is edited heavily. Why? Because after a little time and effort. This
might be
the account of the criminal behind "Cameron Jackson" and he does live in ZIP Code 11434 NYC. I may be wrong.
All is agreed and they are waiting for the receipt. Confidence is through the roof and the fluff flies from him.
Him: I got to turkey on a private plane ... so literarily quarantined myself on air
Images attached, he couldn't provide more despite my requests. So "Cameron" this is your receipt.