Bradley Demetrios Petroleum Geologist Qatar
by Biggles777
(Australia)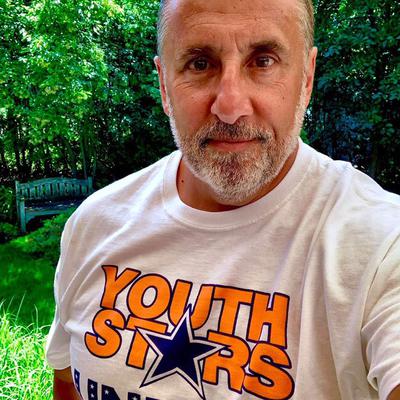 Stolen Image of Innocent Man Used by African Scammers
Hi


Bradley Demetrios is another from Scrabble GO. He says he is from Italy and now living in Houston, Texas. He is a petroleum geologist. He has a 6 year old daughter turning 7 soon called Amanda. That is what you get from him but he wants all your data and has the scripted questions. The following shows how hard they want to hit you for information;
This is one text he sends wanting to phish about you;
Him: Where is home for you ?
Did you travel as kid ?
Where did you school?
Do you have siblings?
Which of your siblings are you closest to ?
Do you have a family tradition as a kid?
Do you still practice your family tradition
How would you described your personality?
What's your favorite subject in school ?
Are you closer to your best friend in high school?
Did you traveled with your parent's as a kid ?
Do you speak other languages ?
Okay, i wont text I'll just let you answer them and I'll share my opinion too.
That is in addition to all the other questions about likes/dislikes, favourite color, food, drink, do you own a car, house etc etc Then they say this about themselves;
Him: English, is my second language,I was born and raised in Italy, at the age of 15 i left Italy. Then i continue my education in Belgium and London before coming to the United States where i completed my high school in Roslyn, New York. After my high school, I earned my Master Degree from Wayne State University Michigan in Geology, I'm a well educated man who is down to earth and i'm a man with a true character and i don't like being judgmental, I do to others what i want others to do to me... Though i know am not perfect and can never be, but i tend to know what am really looking for in life and i do have my Christian faith to credit for my life, Attitude and Success, However,
I don't use the name of God to attract anyone to my self but my character will speak for itself. I'm also very affectionate but honestly sometimes I need someone to bring out of me! You know the kind of person like"no I don't want to go on a bike ride" but once I'm on the bike I'm happy as hell:) .
About work
Him: I'm an independent contractor working with Golf Drilling International on a 3 years contract. I'm a geologist
From that he works for a company that doesn't exist. Then his loss of everyone close;
Him: I have lost my parent's and I'm the only child and a spoilt one at that, my parent's are my best friends, my mother has always been in my life, before she past, my father died in his sleep of a massive MI at the age of 69, my mother died of complications after suffering a stroke at 72
Now he has all the money in the world and is going to build a private hospital
Him: My biggest dream and fantasy is to build a private medical center and buy so many medical equipment and take care of less privileged people in my community who are in need of medical attention. I have always wanted that, I fantasize of spending the rest of my life with someone who love me unconditionally and we bought a beach house and live close to the beach while volunteer to help others and our community
The above is all their script and the email in use is bradleydemetrios231@gmail.com he does say he travels to Qatar for a contract and then I lost interest.
Him: Am on a work contract, i mentioned i am an independent drilling contractor i am here for the purpose of doing that, i was posted under my management all the way here and i hope to get things done as soon as people but it doesn't guarantee i will be coming home sooner or later I don't know for sure, a couple of weeks