Andrew Baldwin United Nations Syria Doctor
by Biggles777
(Australia)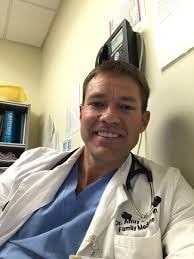 A Stolen Image of an Innocent Man Used by African Scammers
Hello


Andrew B is the username on Words With Friends. You are approached on the game and told how well you play after
one
move. Naturally a chat message soon appears and you start talking with a little said and over to Hangouts you go.
Andrew Baldwin says he is 43 years old from the United States with an adopted son who he either can't say , or doesn't, know the age of. Why? Because on the game he said he had
no children
.
He asks about you and is keen to tell you about what a hero of the people he is. To quote;
Him: i am into General Surgery , currently i am in Syria but soon after i will be leaving to end my contract in Africa as a Goodwill Ambassador Humanitarian (note the letter "I" is "i")
Me: Is that the United Nations?
Him: Yes (The UN have had no mission in Syria since 2012)
Him: i intend going to Africa to help them with the aid and practice good hygienic and develop the system there ,Educate them and give scholars to them . all of this options am weighing and i think i will get to it soon because i already have been there before and i have structure and mapped out my plans
That is as far as you'll get with learning anything about who he really is. All questions are ignored but he sends 4 images of refugee camps which have hundreds of search returns. Any attempt to have him name one is ignored.
It then turns into a typical scripted Nigerian scam. The questions about food, colour, likes, dislikes, God, friends, family and on it goes.
He always asks first and avoids your questions, this is so he can respond saying his interests are the same as yours
Then he tells you how good he is;
Him: Truthfulness and respect. I'm not after physical apperance, but I value good characters, It really makes me get closers to a person inside; I do considers that more important because beauty fades with time but the person inside appreciates with time.I go for the inner beauty, it radiates and it speaks for itself
over time
Him: i am a man who is nice,caring,honest,God fearing, Sincere, good sense of humor and Understanding.Cos understanding and communication is the most important thing in a relationship to make it strong and last forever..Cos when two couples understand themselves i don't see anything that will happen to that relationship..it will be a happy one.
Him: I'm a gentle man with big heart and beautiful personality! I'm the caretaker type. When you are on the side of the road with a flat, I'm the guy who stops. When you are coming through the door, I'm the guy who holds it for you and gives you a humble smile and a soft hello. I work hard with my mind and my hands and I am more "in tune" with life than most people. well educated professional man ,am a Cool ,respectful, and comprehensive person.Who really wants to exprience love in its full
I am a man of true character who believes in giving everyone a fair chance.
I have established some very well thought out career goals with a clear path and plan to achieve success which is controlling my own destiny and not all the money in the world. I do have my Christian faith to credit for my life, attitude and success; however, I don't use the name of God to attract women for my character speaks for itself. I am not the type of man who is focused entirely on himself.
He sticks to the Nigerian scam script. He also quotes proverbs. That means he quickly moves to relationship talk and how lonely he is. He hits on you hard and does eventually send some photos of an innocent man and child.
Then, we don't make it to the scam. There is a reason for that. He is running two aliases as a doctor in Syria. Please refer to the link below elsewhere on this site. Read carefully where I say they work in groups. Soon you will know on this site who this really is.
The other alias asked for money. Most likely this one will ask for Bitcoin to cover broken medical equipment.
https://www.watchforscams.com/harris-williamswit-aka-harris-williams.html
Images attached of an innocent doctor.
Email to avoid
andrewbaldwins241@gmail.com