Alex Ramos United Nations Syria / Israel Doctor Scam
by Biggles777
(Australia)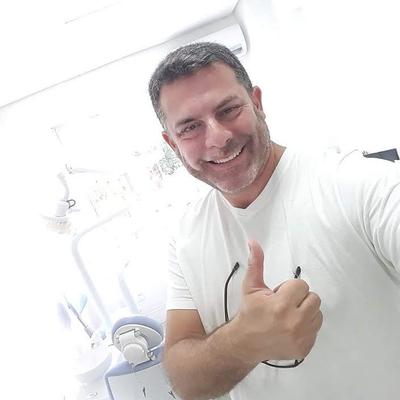 Stolen Image of Innocent Man Used by Nigerian Scammers
Hello


Met an Alexander A on the game and username is Dr A. He isn't very good at doing this and the details on who he is are very thin even when asked. Questions are avoided or ignored with his focus on love. He says he isn't in an army even though he is with the UN and said he's in an army. He is on contract and nor can he ever say if he is in Syria or Israel.
He is 53 years old with a 19 year old daughter called Lenya. An orthopedic surgeon but he sends pictures of a dental surgeon. From the United States but doesn't say where. He is unable to ever name a hospital where he works. Any doctor can do that. This person just says "It not an hospital to treat only UN workers babe" and that doesn't make sense.
He loves you and after a week of that he gets to his scam. He fluffs that too. In the same message he says he stopped to help a civilian girl in the street and a few lines later refers to her as him. He says the UN won't pay the cost of broken medical equipment and that he is needing $2000 to cover it. I offer to pay him via bank transfer. He can't do that and wants Bitcoin.
That is understandable as the real person doesn't have any U.S. or Israeli bank accounts. Just Nigerian. With this scam we can learn how they try to get a victim to use Bitcoin if they haven't before.
Him: Sweetheart something crazy happen my love and I'm so confused and restless darling
So sorry dear I just imagine how busy your work is my love, always try to make time for your self babe
Me: babe what is wrong?
Him: Sweetheart my duty here I'm not allowed to offer medical assistance to civilian or members of the public babe and we run into a situation a baby
she
was dying, I stop the car and offer help and the UN soldiers try to stop me babe and I told them not to worry that I will take responsibility of every thing I use to treat
him
and they even try to prevent me from using the medical department that it was not for members of the public I press on and I use it my love to treat the little girl and I was giving permission to use the equipment to attend to the girl that was two days back babe
Him: Yesterday morning the babe was okay and her mum have to take her home few hours I try to use one of the machine I use on her it bad and it not working I try to fix and check what was wrong but I couldn't do anything I called the man in charge of the machines to check and he told me it was bad babe
Me: Hmm okay babe is she fine now?
Him: Instantly I was called by the camp General that after going through the cameras on the medical department that I was the last person that use that machine and I requested for me to go through the video tape as well but he refuse and told me I've already go against the rules to treat the little girl now I damage the machine that I'm to replace that machine in due time babe
Me: Ooh so what will you do babe?
Him: Sweetheart I'm so confused and I can't have access to funds as long I'm out of the states I've to be in the states again before I can have funds my love
I try to reach an old friend and he told me so much is happening in the states that he can't help me with that amount of money now that business is down
Me: so which hospital have you been in babe?
Him: Sweetheart it just a building where the UN use as medical centre my love
It is all lies from him and not very good ones either. He won't say where he
is nor a hospital. Now he wants Bitcoin and I'm to go to a ATM and pay. No, I use a Bitwal from another scammer.
Me: Oh okay so why you have to pay for the equipment?
Him: I even told my friend I will pay back with interest as soon as possible but he told me he can't that the money left with him is to take care of his family
Because I use it on the little girl babe that was against the rules my love
(Edit)
Me: Well okay but what you going to do about the equipment?
Him: First get someone to work on it my love
The guy in charge told me something was bad inside that it have to be change and it will cause $2000 to get and fix it babe
Me: that all babe? I thought medical equipment was expensive.
Him: Sweetheart that was to fix it my love
Me: Okay babe
(Edit)
Me: Okay babe send it here and I'd like a bank account babe. I'm off for a break take care babe
Him: Okay dear and please take good care of yourself my love
Him: Hi sweetheart I talk to the guy in charge how he can receive money from Australia and he can receive it on time my love so he can fix it babe
Sweetheart I was busy in the medical department I just return back from the medical department dear now in the office my love
Sweetheart he told me that you can use digital currency to send the money and he will get the money within mins babe that is the fastest options my love
Xcoins.com babe so you can buy bitcoin and send online babe
Never pay anyone you meet online this way
Me: no babe I didn't say anything about crypto currency I said a bank account number so you can send me yours good night babe
(Edit out him throwing love emojis, GIFs and a picture of him having a beer)
Him: Sweetheart I went to ask him again and he told me that is the fastest and best way babe
Sweetheart he tell me he can assist and show you how you can purchase it with either with your phone or you can as well use bitcoin machine close to you my love
Sweetheart just use your Google Search for the nearest bitcoin machine close to you my love
Then I explain to you how you can use the machine or the site to purchase bitcoin my love
Never think about doing what he says
Me: Oh babe I've been busy. I'm not using some ATM babe! You have Bitcoin so you have a Bitwal I'll send you mine and am waiting on yours
34BQMfpKxaVH3eSdbTQrkpyBr1G9JpYurC
Him: Hi sweetheart I've my love
Him: Good morning my love how are you doing darling hope you having a beautiful day with you darling
Him: This is mine darling
19MAjD9os5LYKpDjT5BfJRhE5PkHyqRE9Q
Me: babe I sent it to the account you gave me. Why can't you get that?
Him: Hi sweetheart
Him: Good morning my love
Him: Sweetie you send the bitcoin to the address I gave you my love
Him: Sweetie can't find anything on it my love
Him: Babe you have to fund your bitcoin wallet so you can able to send to me dear I can't find any balance on it my love
I haven't sent a thing and never will. What a shame another scammer has an empty Bitwal and it is clear this person is well versed in crypto currencies. If you are ever asked or told what to do with Bitcoin like above just don't do it.
On we go. Me at his lies him in denial. He can't name a street, doesn't know the USA, can't name the medical camp or general demanding he pay for broken equipment. He changes countries in 4 text exchanges with no explanation.
Soon he admits that he's not in the Middle East and is a 26 year old Nigerian called "Golden" it appears his real name is: Enomah Golden Godspower and his personal Gmail is: goldenpal9@gmail.com
Email used;
doctoralxenderramos5@gmail.com