Adojan Bartalan also known as John Walter Dating scam
by Larissa
(Burnside Queensland Australia)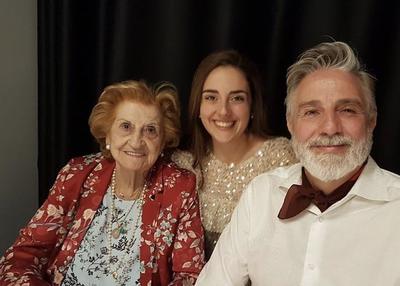 WOW Was I pulled into a one week story of beautiful words, photographs, and a real heart emotional love story, and how foolish I was when a friend said do a reverse image check on his photo and you guessed it the people using this poor man's image are frauds. Thank goodness I didn't get to the stage of sending money.


I am going to leave one of the letters he sent so you know what to look out for and the question is the way they find your emotions for the next letter.
Letter One,
Thank you for sharing your story, I admire your courage and honesty. It is truly inspiring, and I'm so grateful that you have survived and thrived to tell your story, sharing what is a very personal and emotional experience. I appreciate it. I could just imagine the heartache and emotional roller coaster you had to endure.
You sound like someone who has prioritized the important things in life and who can appreciate the things that make you happy. You seem like someone grateful for the good things in life, even during the hard times. Do you think that is right? That is a beautiful quality.
Thank you for sharing your family photographs with me.
Yes my mum lives in Italy she's originally from here since my dad passed away she moved back home to Friuli-Venezia Giulia northeast Italian.
I moved to Australia from Europe since the death of my wife and the kids are now in Uni, Australia has been a life school for me, I love the place, I do not know how to explain it, but I feel like I'm from Australia.
It's been my dream ever since I was in my twenties to live in Australia (for the kangaroos and koalas). I traveled the whole world before I confirmed Australia was my preferred country. I considered the US where I lived for a while but I didn't like the guns and social system, Canada but was too cold, New Zealand but there was a lack of job opportunities. Finally, Australia was the best, especially nature and lifestyle and I am glad I moved.
Art is fun! Learn how to draw and paint the FUN way! As a boy, I made many types of art. I painted, made ceramics and did crocheting and calligraphy. My Mom was an artist; she gave us lessons and let us use her top-quality art supplies. (Thanks Mom!)
In college, studying Agriculture was all-consuming and my art was put on hold.
After graduating, I worked in high tech and pursued painting passionately as a hobby – taking dozens of classes, reading thousands of books and articles, forming an art critique group, and painting every spare minute.
Now I will explain more about my personal life so far.
My Job: Agriculture, Food, and Natural Resources.
I maintain a very low profile as far as possible. I am a very optimistic person. I practice what I preach. I am hardworking. I care for others but do not like people taking advantage of my kindness. I am waiting to settle down with that special someone in my life.
- I am very romantic, passionate, loving, caring & protective
- I hate violence, toward any person
- I respect my fellow beings and their opinions
- I hate dishonesty, arguments & infidelity
- I always smile & I love humor a lot
I am very honest, transparent, I work hard, and would treat you as a friend and in fact, give you more respect than
anyone else in this world. I will always share everything with you; I am always open to everything that life offers. I like going out (picnic, journey, theatre, movies, traveling, etc.) and at the same time, I am also happy to stay at home and cuddle. I prefer to hold hands always.
I am a loving and caring man, I have missed emotional and physical intimacy with a woman. I consider this only a small but vital part of family life. I wish to stress that, unlike most men, I have led a sinless life and have the highest moral values. For me, togetherness is more important. I am tender and open to experiments in love and care for my woman. My happiness will be in keeping you happy & always smiling and in fulfilling all your dreams & desires and making/seeing you happy & always satisfied to the best of my ability. More than anything, I will be your best friend for life. I am sure when you meet me you will feel happy. I can promise you for now as I know I can keep these promises.
I like that my woman to be able to hold a conversation on any subject and always be willing to learn in life and also teach others in life…the knowledge so earned.. so that it does not go waste, I am an extremely confident man and have gone through a lot of struggles in life. I can proudly say that I am a self-made man due to my high level of perseverance. Nothing in this world deters me from achieving my goals.
I am a goal-orientated person, but also love to have fun and enjoy life. I have been doing a great deal on my own and would like to have that special someone to share life with. Respect, honesty, honour, love, and trust are all extremely important to me. Once I lose trust in someone, I cannot be anywhere near them. I value health, being in the health industry and I encourage everyone around me to be their best in health and every aspect of their lives. Life is far too short, as I have learned.
I have had wonderful people in my life pass away. One was my father whom I was extremely close to. It took me a very long time to accept the fact that he was gone, even though the hurt will always be there. We learn to deal with their loss and learn not to define our lives and future by that heartache. At least I try to every day.
Little questions for you.
What makes you feel the most loved?
What's your dream date night?
What's your favourite romance movie?
What's your favourite meal to cook for date night?
What kind of music puts you in the mood?
What's the number one thing that you think makes a relationship last?
If you had your choice for date night would you rather 1) stay at home and have a candlelit dinner, 2) Dress up and go to a concert, or 3) explore the great outdoors and go on a hike together?
What's your favourite restaurant for date night?
Once again thanks for your message and the sincere sentiments you have expressed so eloquently.
Adojanxxxxxx
As you can see they are good at pulling the heartstrings and making you feel special. I feel physically sick almost like I have been emotionally raped.
How very sad for that poor man in the photo and the family who has had their identity stolen