MonaVie Scam
Is there a Monavie scam or not. There are two aspects to consider. Is the acai berry drink genuine or a scam, and is the business model a scam?
Monarch Health Sciences, was founded in 2003 as a distributor of diet and weight loss supplements. In 2005, the executives of Monarch founded MonaVie which was a privately-held multi-level marketing [MLM] company based in Salt Lake City, Utah.
Monarch Health Sciences and MonaVie, Inc. were both founded by Dallin Larsen, who previously had held senior executive positions with the MLM companies Usana and Dynamic Essentials.
Their acai juice (pronounced [asa'i]) is their flagship product, and with it, they have positioned themselves as a having a great opportunity to generate income.
Larsen decided that in addition to selling pure acai berry juice that he would introduce additional tropical fruit juices to the product. He added an additional 19 fruits form the MonaVie product you purchase today.
Is This a MonaVie Scam or a Genuine Business Opportunity?
MonaVie is a MLM company [also known as Network Marketing] which is a business distribution model that allows a parent company to sell its products directly to consumers through a network of independent distributors [or associates, independent business owners, dealers, franchise owners, sales consultants, consultants, independent agents, etc].
The independent distributors are awarded a commission based on the volume of product sold but they can also earn bonuses based upon the number of people they sponsor who become part of their downline of independent distributors, who also build a customer base.
So the distributors earn an income from their own sales efforts as well as the leverages sales effort of their downline.
Like most MLM companies, the best results come from marketing to your 'warm' market [friends, associates, family, and acquaintances].
The MonaVie MLM plan is a binary plan that is a compensation plan which allows distributors to have only two front-line distributors. If a distributor sponsors more than two distributors, the excess are placed at levels below the sponsoring distributor's front-line.
This spillover is one of the most attractive features to new distributors since they need only sponsor two distributors to participate in the compensation plan. The primary limitation is that distributors must "balance" their two downline legs in order to receive commissions.
Balancing legs typically requires that the number of sales from one downline leg constitute no more than a specified percentage of the distributor's total sales.
So is this a MonaVie scam or a business opportunity. It is a MLM business opportunity, however MLM is not for everyone. Read our list of questions to ask before making a decision about whether this is the type of business for you.
The MonaVie Products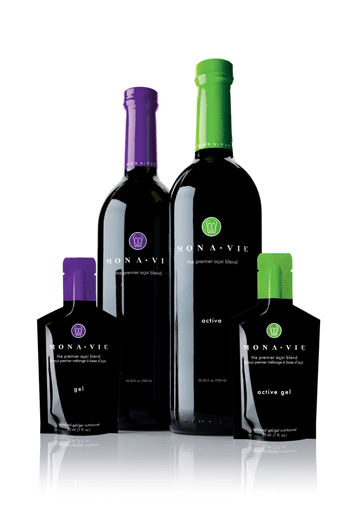 The MonaVie products consist of:
MonaVie Original [Suggested retail price $39]
MonaVie Active [suggested retail price $45]
MonaVie Pulse [suggested retail price $46]
Each bottle contains 750ml [25.5 oz.] and the daily serving size is 2-4oz. and so a weeks worth would cost about $45 and a month about $180.
The MonaVie Original juice, which has a purple label, is the original 19 fruit blend. MonaVie Active, which has a green label, has the same blend of fruits as MonaVie Original, but with the addition of liquid glucosamine and omega 3, 6, and 9 fatty acids. Glucosamine could be helpful for maintaining healthy joints.
The most talked about ingredient in their products is the acai berry.  It is harvested in the Amazon rainforest, and is known for its acai berry benefits. The acai berry is very nutritious is a freeze dried state.  It is unknown how much acai MonaVie products actually contain because the company refuses to release that information.
The MonaVie Scam
If you read some of the information on the internet to decide if it is a MonaVie scam, a lot hinges on people's perceptions of what MLM involves. The MLM model used by MonaVie is not unusual however some people believe the way income is earned by utilizing a 'warm market' is unethical - in which case almost all MLM's would fall into that category.
Other complaints center around the minimum order volume per month, however this requirement doesn't make it a MonaVie scam. It should form part of your research about the business opportunity before deciding whether to proceed.
Questions about the claims made in relation to the health benefits depend on the statements made by the independent distributors. You would need to see evidence that substantiates these claims in order to satisfy yourself that those claims have foundation.
According to Wikipedia, "MonaVie has been the subject of recent media controversy, and several sources have questioned both the product's value and the legality of claims regarding its reputed health benefits.
The manufacturer of MonaVie products, as well as some of its senior distributors, were involved in four lawsuits between 2007 and 2008."
Do You Have A Great Story, Tip, or Experience With This Topic?
Do you have any knowledge or experience of the Monavie scam to help others.

Share your story, tip or review with the world!

What Other Visitors Have Said
Click below to see contributions from other visitors to this page...

Monavie scam in Mexico Not rated yet
It's really a shame to see all this companies like Monavie here in Mexico using binary systems, and selling dreams to all these amazing people of Mexico. …
Monavie Scam