eBay Scams
Understanding about eBay scams is important if you are wanting to start buying or selling. If you have never used eBay before, you may not be aware that it is relatively easy to fall victim to a scam.
While eBay is considered a safe place to shop online, there are a number of eBay scams that you should be on the lookout for.
Knowing what these scams are, before you start shopping on eBay, will help to prevent you becoming a victim.
eBay is considered an online market place or an online auction website and just about anyone with an internet connection anywhere in the world, and an eBay account, can start eBay auctions.

This means scammers anywhere in the world can access the auction/selling system relatively easily.
How do The eBay Scams Work?
Phantom Product
One of the most common eBay scams is where the seller advertises a product that they don't have. These can be difficult to spot however a clue can be in the photo of the item. The item should have an accurate photo and description. With some items, such as books, CDs, or movies, eBay sellers are given the option of using a stock photo; one that is provided by eBay. All other items should have a genuine photo, taken by the seller.


Phishing
Another of the common eBay scams involves scammers who want your personal information. This type of scam is implemented by sending you a spoof email and advising you to login using the link in the email to verify your personal information.
The scammers might also tell you they need your credit card information to complete the transaction. Whether you pay by PayPal, personal check, or money order, you shouldn't give out any personal information to any eBay sellers, even if you are buying an item from them.
Shill Bidding
A seller uses other persons id or has friends raise the number of bids and value of an item. This has been going on for a log time in car auctions where a " shiller " in the audience will bid against someone who is interested in a vehicle to drive the price up, and is just as popular with online auctions. Watch for recurring user id's on a seller's bids or for sellers who routinely bid - but don't win on each others auctions.
Bid Shielding
This eBay scam involves a ring of bidders who target an item they want and they put in multiple bids. One for the price they want, and then a series of bids that inflate the item to scare off any other bidders. Just before the bidding ends, the high bidders withdraw their bids and the low bid wins the auction. Watch for bidders who have a history of withdrawing bids.
Switch and Return
Some dishonest buyers will purchase your item, receive it and then return it. The scam is that the item they return is not yours but theirs and is an attempt to upgrade their item for free at your expense. Watch for bidders who are overly interested in your return policy.
Fakes and Reproductions
It's a mistake to think that a certificate of authenticity is proof that an item is real. Remember if a seller is willing to misrepresent a fake item as real, then there is no big deal about including an authentic looking certificate verifying the value of the item. Watch out for items that are rare but suddenly appearing in mint condition online. Another clue is the type of comment in the description that gives the seller an out if the product turns out to be fake like " To my knowledge " or " I think ".
Feedback Fraud
eBay traders rely on their feedback reputation based on comments left by buyers and sellers. The better your feedback reputation, the more your are trusted as a buyer and seller. Even the feedback system however is not safe from eBay scams. Feedback can be manipulated in order to scam some people with high priced items. They do it by:
Feedback fraud. A person will set up multiple EBay accounts, buying and selling items between their identities, and leaving positive feedback to make themselves look trustworthy.
Purchasing feedback. A buyer purchases a cheap item (under $5) in return for positive feedback to build up their rating. Some sellers even market this as a way to gain positive feedback. Additionally, sellers are also auctioning books on how to gain a 100+ positive feedback ratings in seven days.
Stealing feedback. This is done by hijacking an account, and using its good reputation to scam others. This usually happens after someone has been fooled into entering their password at a fake eBay site following a phishing e-mail.
What is a Spoof Email?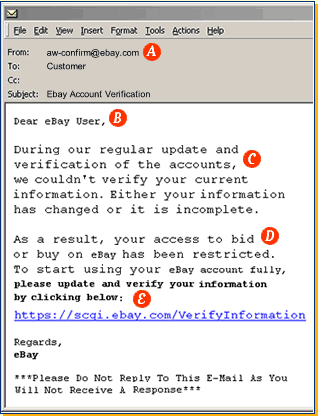 Spoof emails can be a major problem for unsuspecting Internet users. Claiming to be sent by well-known companies, these emails ask consumers to reply with personal information, such as your credit card number, social security number or account password.
These deceptive emails are called "Spoof Emails" because they fake the appearance of a popular Web site or company in an attempt to commit identity theft. Also known as "hoax" or "phishing" emails, this practice is occurring more and more frequently throughout the online world.
Warning Signs of a Spoof Email with eBay scams
Email Greeting
Many Spoof emails will begin with a general greeting such as "Welcome eBay User."
Urgency
Claims that eBay is updating its files or accounts It is highly unlikely that eBay will lose your account information.
Account Status Threat
Most Spoof emails try to deceive you with the threat that your account is in jeopardy and you will not be able to buy or sell on eBay if you do not update it immediately.
Links in an Email
While many emails have links included, remember that these links can be forged.
Requests Personal Information
Requests that you enter sensitive personal information such as a User ID, password or bank account number by clicking on a link or completing a form within the email are a clear indicator of a Spoof email.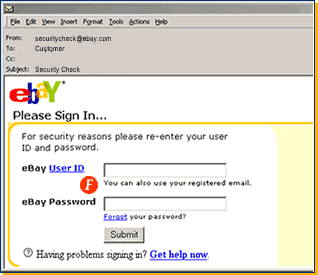 Remember
If you have any doubt about the authenticity of an eBay or PayPal email, simply open a new Web browser, type in www.ebay.com or www.paypal.com and perform the requested activity.
Never click on a link in an email if you are unsure of its origins, especially if the email asks for personal financial information
Red Flags for eBay Scams
Is this auction item consistent with the sellers other items bought and sold in the past. If they have previously traded in $5 items and are now selling a laptop or car, be more cautious
Check the photos of the item. Do they look authentic photos or ones from a company's website. Do you recognize the photo because it has been used on previous auctions? In some eBay scams they steal photos from other eBay auctions.
If the seller previously accepted Paypal as the method of payment but is now insisting on a wire transfer, be suspicious.
Check the returns policy. If they offer money back guarantees and dirt cheap shipping, check it out further, because a scammer isn't going to ship anything or give you your money back.
Is the seller posting a lot of unrelated big-ticket items at the same time such as computers, cameras, watches etc? Check them out carefully.
Check carefully second chance offers as some of these are scams. Scrutinize any hot links on the page by rolling the curser over the link and checking the web address [URL].
A short duration sale deserves a closer look as some scammers like a hit-and-run transaction so their dealings don't come under too much scrutiny.
Be cautious about dealing with overseas people as the laws of your own country don't apply to them. Watch for people who say they are 'temporarily' out of the country'.
Tips for eBay Scams
Here are some tips from eBay on how to protect your account and what to do if you think you may have responded to a Spoof email:
Download eBay Toolbar with Account Guard.  Account Guard indicates when you are on an eBay or PayPal site and alerts you when you are on a potential fraudulent site. Learn more.
Verify eBay emails in My Messages. If you get an email that looks like it's from eBay about a problem with your account or requests personal information and it's not in My Messages, it's a fake email. Learn more. (Note: My Messages only applies to eBay emails).
Scan for Viruses.

Frequently

scan your computer for viruses and make sure your virus software, operating system, and browser patches are up to date.
Make Your Password Unique. To prevent someone accessing multiple accounts, it is effective to have different passwords for each account. Also, a good password will include a combination of letters and numbers - this makes it more difficult for people to guess the password.
Contact Your Bank and Credit Card Company. If you think you entered your personal financial information into a spoof site, contact your bank and credit card company immediately.
Vigilance Is the Best Line of Defense. You should periodically check your account status to see if there is any suspicious activity.
Change Your Password Frequently. If you think your account security may have been breached, change your account password immediately. Learn How to change your password.
Verifying an eBay spoof just got easier
My Messages is the definitive, legitimate source for any email from eBay that affects your account. The bottom line - if an email affects your eBay account, it's in My Messages. If you get an email that looks like it's from eBay about a problem with your account or requests personal information and it's not in My Messages, it's a fake email. Visit My Messages to verify your eBay emails today!
Reporting Account Theft
If you feel your account has been compromised, you can report it here - eBay scams
Reporting Spoof Emails and Web Sites of eBay scams
By reporting spoof emails and Web sites to eBay and PayPal, you help protect the rest of the community by warning members and working with the ISPs to get the sites disabled. There are several easy methods to report spoof emails and Web sites:

Forward eBay spoof emails to spoof@ebay.com and then delete it [don't alter the subject line or forward the message as an attachment - doing so prevents eBay from investigating it further]
Forward PayPal spoof emails to spoof@paypal.com and then delete it [as above]
Use the Account Guard feature of eBay Toolbar to report a suspicious Web site
More Information on eBay Scams
Safe Trading Tips
eBay Security Center
PayPal Security Center
eBay Scams