Advance Fee Loan Scam
When are you likely to come across an advance fee loan scam? They are usually advertised as 'easy cash offers'.
Some websites and ads in newspapers or magazines guarantee loans or credit cards regardless of your credit history. They often state "Turned down by a bank because of your poor credit history?" or "Looking for a loan or credit card but don't qualify?"
The company claims that they can guarantee you a loan if you pay them a processing fee, an application fee or pay for 'insurance' on the loan in advance.  They will sometimes ask you to call them at a 900 number, which will result in charges to your phone bill.  They will usually ask to be paid via overnight or courier service or by wire, so that the payment can't be traced.  
The advance fee loan scam comes when you apply and find out you have to pay a fee in advance! If you are required to pay a fee in advance for the promise of a loan or a credit card it is usually a scam.
Remember that:
It is against the law to ask you to pay in advance for a loan or credit
A legitimate lender will never guarantee you a loan or a credit card before you apply, especially if you have bad credit, no credit, or a bankruptcy petition on your credit report.

These type of scams should not be confused with pre-qualified offers, which means that you are selected to apply and must go through the normal application process, or for pre-approved offers which require only verbal or written acceptance.
Never give out your personal information or agree to a loan over the phone or via the Internet.


How to Recognize an Advance Fee Loan Scam
A lender that is not interested in your credit history, yet asks for some personal information such as your Social Security number or bank account number [and potentially misuses it]
Fees that are not disclosed clearly or hidden charges
A loan that is offered by phone. It is illegal for companies doing business in the U.S. by phone to promise you a loan and ask you to pay for it before they deliver
Lenders who ask you to wire money
Be careful with lenders who are not registered in your state. To check registration, call your state Attorney General's office or your state's Department of Banking or Financial Regulation

How to Avoid an Advance Fee Loan Scam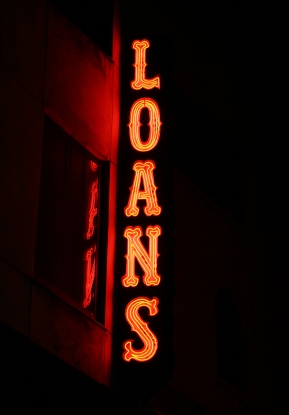 Know the laws for your state as the laws are not the same in every state of the US  
Check out the genuineness of the lending company that you are going to deal with. You should only approach a registered company of the state
A lot of the sites are phishing sites that are designed to collect personal information on you such as your name, social security number, phone number, and bank account numbers. This information can then be used to get credit cards, withdraw money from your bank account, or sold to the highest bidder, who can use it to defraud the government, avoid taxes, or may even sold to illegal immigrants so they can gain employment
Check the terms and conditions of the company before taking the loan. There may be some fine print or hidden charges and you may end up paying more than you can afford. In most cases, the repayment for these loans is debited through your bank account automatically. When that happens you will become aware of the increased charges after they have been deducted by the fraud cash advance online loan company
Check the process of repayment. Some companies asks for a post dated check for the repayment while with others, the money will be debited from your bank account directly
Check the terms and conditions for extending the repayment time. In some companies the interest rate and fees for extending the repayment time is high. In that case you may be repaying almost half of the loan amount as fees and interest
Resources for Scams on Advance Fee Loan Scam
If you believe a lender has violated the Truth in Lending Act, file a complaint by calling the Federal Trade Commission Consumer Response Center toll-free at 1-877-FTC-HELP (382-4357)or filling out the Federal Trade Commission Consumer Complaint Form online to report an advance fee loan scam
If you have debt problems, try to solve them with your creditors as soon as you realize you won't be able to make your payments. If you can't resolve the problems yourself or need help to do it, you may want to contact a credit counseling service. Organizations in every state counsel and educate people and families on debt problems, budgeting, and using credit wisely. To learn more about dealing with debt, including how to select a credit counseling service, visit ftc.gov/credit.
If you think you've had an experience with an advance fee loan scam, report it to the Federal Trade Commission [FTC]. The FTC works for the consumer to prevent fraudulent, deceptive, and unfair business practices in the marketplace and to provide information to help consumers spot, stop, and avoid them. To file a complaint or to get free information on consumer issues, visit ftc.gov or call toll-free, 1-877-FTC-HELP (1-877-382-4357); TTY: 1-866-653-4261. The FTC enters consumer complaints into the Consumer Sentinel Network a secure online database and investigative tool used by hundreds of civil and criminal law enforcement agencies in the U.S. and abroad.


Do You Have A Great Story, Tip, or Experience With This Topic?
Do you have any knowledge or experience of the Advance Fee Loan scam to help others.

Share your story, tip or review with the world!

What Other Visitors Have Said
Click below to see contributions from other visitors to this page...

ADVANCE FEE LOAN SCAM

EVER HAVE ANY DEALINGS WITH A COMPANY EASY LOANS .CO.UK NUMBER 02086380894 THEY ARE INTERNET LOAN SCAMMERS...PROMISING YOU A LOAN BUT REQUIRE UPFRONT …
Affordable Financial INC. Not rated yet
Affordable Financial INC. promised me money if i sent them 850 to process the loan. The loan was for $28,000. They gave me a Boston address but it was …
Advance Fee Loan Scam