Survey Scams
There are many survey scams on the Internet - the challenge is sorting out the legitimate sites from the scams!
The idea of completing an online survey and making some money in your spare time sounds appealing, and is possible, however in your quest to find the genuine companies, you will come across survey scams.
You will almost certainly not make a full-time income, however you may make some extra money to help make ends meet.
So how do you steer clear of the scams. The biggest clue is that they will ask you for money.
The money may be for a one-time registration fee to cover the costs of their database [or administration etc]. The information you will get access to is usually available free elsewhere, or is out of date, or doesn't even exist.
Another problem is that they may sell your information to marketing companies, and then the telemarketing calls start, your inbox fills up with spam, and your mailbox gets stuffed with junk mail full of offers for more scams.
Red Flags of Survey Scams
Claims of making hundreds of dollars an hour, or a day, or you can easily make a full-time income. Genuine surveys are targeted to a specific demographic of the population which will automatically exclude a lot of the people on their database. Surveys related to men's cologne, women's perfume, baby food, vegetarians, etc will not apply to everyone, so you would need to be on the databases of hundreds of survey businesses in order to receive enough work, and there are simply not that many genuine survey businesses online

Short registration forms. Genuine survey websites have to match people very closely with the product or service that is being canvassed. In order to search their database, survey businesses require a lot of information about you to build a lengthy profile. Websites that only require small amounts of information are likely to be survey scams
Websites with no information about the company and no privacy policy. A genuine survey business will provide information about who they are. They will also have a privacy policy as they are collecting and storing a lot of information about you. The privacy policy is important so you know what they do with your information
Websites with poor grammar, misspelled words, poor navigation, broken links, no security lock icon at the bottom of your screen and poor contact information
Websites with guarantees. Survey work is unpredictable so be cautious of any website offer a guaranteed income
Websites that require you to pay money or require your credit card information
Advice for Survey Scams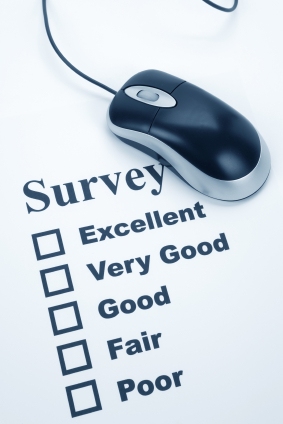 Study online survey sites to try to establish if they are likely to be survey scam sites. As stated above, check the length of the profile form, privacy policy, contact information and professionalism of the site
Avoid sites that request money
Type the name of the website or business into Google, followed by the word 'scam' and see if there is information relating to complaints about them being a scam.
Check scam forums for negative comments, and check with the Better Business Bureau for complaints against the site
Be cautious of 'review' sites that state they have investigated all the survey sites online and 'most of them are scam sites, except for the few they have identified'.  These review sites are usually trying to earn commissions by referring you to survey sites, and receive a commission for everyone who they refer to the site who subsequently signs up. This is especially the case if the review site has a few of their 'legitimate' sites listed so you can click directly through to the site. Some even include 'rating stars'!

Be cautious of 'survey websites' asking you to receive information for special offers and other survey panels during registration, as these websites may sell your name and information to other companies who will send you spam
If you are not sure whether the website is genuine, set up a disposable email address and sign up using that email address, so that if you end up receiving large volumes of spam, you can delete the disposable address and not have your personal email spammed. Don't provide personal information such as credit card details, banking information or full names of family members
Stay away from sites that indicate you will make a lot of money per hour, per week or allow you to earn a full-time income from a few hours a week
Be wary of sites that state you can earn up to $200 per survey
Check out online comments about survey scams

Do You Have A Great Story, Tip, or Experience With This Topic?
Do you have any knowledge or experience of survey scams to help others.

Share your story, tip or review with the world!

Home
>
Work at Home Scams
> Survey Scams