The Scam Book
Fraud is the crime that touches nearly everyone.
Your only line of defense against fraud, identity theft and scams is information.
This book provides that information and shows you how to take effective steps to protect yourself, your family and friends.
It provides the information in a concise, easy-to-read format. It also provides a section on 'Golden Rules' to avoid most scams, as well as helpful tips and strategies.
Keeping yourself and those you care about safe requires that you are proactive in the way you approach online banking and shopping, Web surfing, email management and just about everything else you do on the Internet.
Trying to remember all the variations and permutations that scams, fraud and identity theft can take would be a difficult task.
You have a greater chance of success avoiding them by just remembering some general rules, so we have included a section called Golden Rules.
Following these simple 'Golden Rules' can save you a lot of money, pain, frustration, time and heartache, and will avoid most of the scams, fraud and identity theft you will be exposed to.
What is in the Book?
This essential guide provides information on the following common scams:

The Golden Rules to avoid most scams
Lottery and Competition Scams
Internet Auction and Classified Ad Scams
Nigerian Advance Fee Fraud
Phishing for Identity Theft
Timeshare Scams
Door to Door Scams
Paid Survey Scams
Acting Scams
Money Order Scam
Online Car Buying Scams
Work at Home Scams
Publishing Scams
Get Rich Quick Scams
Investment Scams
Mystery Shopper Scams
Social Networking Scams
Romance and Dating Scams
Internet Scams
Psychic Scams
Overpayment Scam
Pyramid Schemes
MLM Scams
Mobile Phone Scams
Small Business Scams
Travel Scams
Banking and Credit Card Scams
Health and Medical Scams
Job and Employment Scams
Disaster Relief and Charity Scams
Advance Fee Loan Scam
Mortgage Scams
Foreclosure Scams
Gold Scams
How to Protect Yourself from Credit Card Fraud
Tips
What to do if you are Scammed
How to Bank Securely Online
How the Auction/Escrow Scam Works
Terminology
Appendix 1: Typical Example of an Email Offering Easy Money in Return for a Small Payment
Appendix 2: Common Computer Security Risks
Appendix 3: How to Protect Your Computer from Online Risks
Appendix 4: How Do You Remove a Computer Virus?
Appendix 5: The Risks of a Cashier's Check, Bank Draft and Money Order
Appendix 6: Reporting a Scam and Getting Help
Appendix 7: Dealing with Identity Theft
Appendix 8: Where to go to Say No to Unsolicited Mail, Telemarketing and Email
Appendix 9: Useful Links
Appendix 10: Râmnicu Vâlcea - the Global Center of Cybercrime
It provides most of the information in concise bullet form along with photographs and images.
It reveals smart and specific tips, techniques, and tactics that anyone can use to avoid being victimized—financially, physically, or emotionally.
Identity theft is one of the most insidious crimes of today. It can hugely disrupt your life for years and even put you behind bars for crimes you didn't commit. It is important to understand how to avoid having your identity stolen, and if it is stolen, what you can do.
Perhaps you have already been a victim of fraud, scams or identity theft, and are wanting to educate yourself so you don't become a victim again? This book will help protect you from future scams. 
If you are serious about not becoming a victim of scams, fraud and identity theft, then this is the book you need.
However this book is not an encyclopedia. It doesn't provide information on every scam that currently exists. Evidence shows that these types of books rarely get read due to their size!
It is a book that is intended to be referred to often, with the goal of educating and protecting its readers.
This 113 page book is a concise, readable resource that is loaded with helpful information, proven strategies, golden rules, and tips that you won't find for sale anywhere else!
Buy it NOW before you become a victim, and regret it!
Downloadable (PDF file) eBook 
Immediately after your purchase, you can download your ebook and start learning new strategies, tips, and secrets the scammers don't want you to know.
This eBook is in the Adobe PDF file format. If your computer doesn't have the Adobe Reader software, you can easily install it for free.
Buy the eBook Now

with PayPal or Credit Card
(first click the 'Checkout with PayPal' button, and then a credit card & PayPal option will be displayed)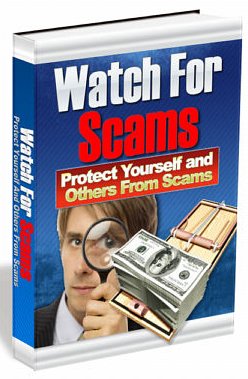 Buy Now - Only $19.95
P.S.  This book shows you just how vulnerable you are, but it also shows you steps you can take to protect yourself from becoming a victim.  If you don't learn how to recognize scams and how to avoid them, the statistics indicate you are very likely to become a victim in the future.
P.P.S.   The proceeds from the sale of this book will be used to continue building and maintaining the Web site www.WatchForScams.com in an effort to educate and help people avoid becoming a victim of a scam, fraud or identity theft.
Home
> Scam Book