Payday Loan Scam
What is a payday loan scam? Payday loans are usually small [usually less than $500], short-term, high-rate loans that have a variety of names including cash advance loans, payday loans, post-dated check loans, check advance loans, or deferred deposit check loans.
What usually happens is that a borrower writes a personal check to the lender for the amount that they wish to borrow plus a fee to cover the borrowing.
Alternatively, the borrower gives the lender authorization of automatic clearance of the loan amount from their bank account. The lender holds the authorization for auto debit, usually until the next payday.
The lender gives the borrower the amount of the check, minus the fee.
The fee for a payday check is usually a percentage of the amount borrowed. If the loan is extended, then the fees will apply for each extension.
A payday loan secured by a personal check is very expensive credit. If you borrowed $200 for 2 weeks the fee may be $30. On an annual basis, the interest rate is 390%! A common interest rate is 15% which is an APR of 459%. This article helps explain why it is called a payday loan scam.
Under the federal Truth in Lending Act, the cost of payday loans must be disclosed. Among other information, you must receive, in writing:
The finance charge (a dollar amount)
The annual percentage rate (APR) which is the cost of credit on a yearly basis
A payday loan scam usually gets its name because the lender does not disclose the APR or the finance charges clearly, charges extra fees for an application, decides an unrealistic repayment timeframe, or requests an application fee with no intention of providing a loan [online].
There are a lot of loan websites that exist only to get your personal information [phishing] and then use it to get credit cards to commit fraud, drain your bank account, or on-sell it to the highest bidder.
How to Recognize Payday Loan Scams
A lender that is not interested in your credit history, yet asks for some personal information such as your Social Security number or bank account number [and potentially misuse it]
Fees that are not disclosed clearly or hidden charges
Lenders who ask you to wire money
Be careful with lenders who are not registered in your state. To check registration, call your state Attorney General's office or your state's Department of Banking or Financial Regulation


How to Avoid Payday Loan Scams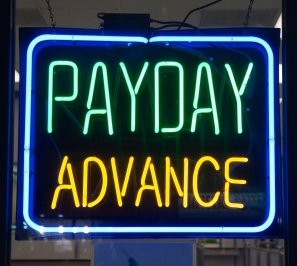 Each state in the US has different payday loan laws. In many US states, payday loans are illegal. Know the specific laws in your state
Only use a registered company
Check the terms and conditions before agreeing to them
Check the repayment process
Check the terms and conditions for extending the repayment time
Don't ever give out personal information or agree to a loan over the phone or via the Internet


Do You Have A Great Story, Tip, or Experience With This Topic?
Do you have any knowledge or experience of the Payday Loan Scam to help others.

Share your story, tip or review with the world!

Home
>
Scams on Cash Advance Company
> Payday Loan Scam